WOCR

SUMMERADIO

"WHERE OCEAN CITY ROCKS"
It all started in 1972 at the University of Maryland

---
THAT'S ME ON THE FRONT PORCH MAKING A GADGET OR SOMETHING
---
INTRODUCTION
Why would three guys try to start a radio station while still in college?
Well, Dan Mayer, Jerry Cesak and I would do just that. Of course, we couldn't do it alone.
I thought I would give a short description of the players of the WOCR story and tell the story itself. It is an interesting bit of history that really taught me a bunch.
Dan Mayer and I ran the University of Maryland Radio Television Workshop. This meant that each morning at 6:00 AM we would show up at the television studio and produce a news program. This program would air between televised instruction programs on the campus closed circuit cable TV system. We really took it serious. Jerry Cesak was also in the department and had an interest in announcing. He worked part time at WASH as a radio DJ and Dan worked at WINX as a DJ.
One day, Dan started telling me about an idea he had for a commercial carrier current radio station. To this point in time, it was traditional that carrier current was only used for non-profit campus radio stations. There was a special section of the FCC regulations, Part 15 Section C, that allowed for broadcast in limited powere or limited radiaion with no FCC license. This was just fine for campus radio stations. Typically, a small AM transmitter, 1 to 5 watts, would be built and coupled to the power line in a section of dormatories or other campus buildings. The AM signal would basically travel around the building on the power lines. The signal was acceptable though it always had a bit of 60 cycle hum.
Dan had this idea that in a city with a layout like Ocean City, Maryland such a transmission could legally be used to commercially broadcast, legally and with no FCC license. As well, because there was no license, there were no regulations concerning programming and content. Since Ocean City was basically 20 block long by 3 blocks wide, he figured that with a group of 10 or 20 transmitters, you could cover the entire city!
The problem with Dan at that time was that he mentioned this to me. I started challanging him.
"So, if it is such a good idea, lets do it!" I said.
Dan was graduating that year so he was looking for something to do. We talked to Jerry and he though it was a good idea also. Now the problem was to prove the theory and gather enough money to get the project under way.
We contacted Mike Byrnes, the chief engineer at WASH Washington DC and a former student and participant at the campus radio station WMUC. I used to have a link for WMUC here as they had a link to these pages. They removed that link so I have removed mine. Mike said he could build a transmitter for little money that could do the trick. A month or so later, we had a prototype. Dan, Jerry and I head for Ocean City in my old 1960 Pick-Up truck to do a "Field Test".

---

Here most of us are.
(L to R) Dan Mayer, Me (behind Dan), Greg Kern (on the ladder) and Richard Friedel (behind the truck door)
---
Up on the phone pole we placed about 10 transmitters in boxes like this. Each box had a 220 VAC disconnect, and a phone line that connected it to the audio distribution amplifier back at the station.
---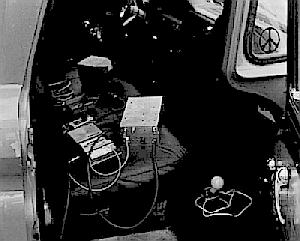 This is our Prototype and a cassette player used in the official "FIELD TEST"
---
We felt the "Field Test" was a complete success. Now we would have to put together the group that would make the whole thing happen. Mike Byrnes was a terrific engineer but he already had a full time job at WASH

We wanted to do this whole thing a little different. We knew we would get run out of town if we just went on the air. We decided to try to get as much community support as we could.

---
THE PEOPLE BEHIND THE PLAN
(not in any particular order)

Then came Richard Friedel. Richard Friedel was an interesting character. Though he was not a student at the University of Maryland, he was one of the driving engineering forces behind the college radio station WMUC. WMUC was the University of Maryland's carrier current AM radio station. That was handy. Richard knew all about transmitters and was particularly interested in all manners of audio engineering. He loved the idea and was willing to work at the project on spec. This would mean that he would work with us for no money for a piece of the action if the station ever made any money. Richard was an engineering student at Drexel University in Philidelphia, PA but his family lived in Maryland near all of us. He would be available as soon as school was out.

Richard became one of the longest aquaintenances of this experience that I would have. He currently is Director of Studio Engineering at ABC Television New York and we see each other regularly. He is one of my best and oldest friends.


What did I know about radio? Well, really not much. But I did know quite a bit about audio. Dan was also someone that became a life long friend. He is a native Baltimorian. He came from a big family of brothers. His father was an interesting scientist and mother an eccentric musician. I always enjoyed visiting his home. As I mentioned, Dan and I ran the University of Maryland Television Workshop. We had a great time. Every morning we would meet in our little office at the end of the hall in the Fine Arts Building and talk of broadcasting and all sorts of interesting things.

One of the things I remember the most about Dan was his smoking. He was a real smoker. Dan was never without a cigarette. The thing I remember most though was when he quit. One day he went in to the People's Drug Store, the one near the campus I believe, to buy a carton of cigarettes. I think the story was that they had raised the price a buck or so. Anyway, this was it for Dan, he never smoked again. I have told this story to many of my friends that still smoke. I think I can attribute at lease one friends quitting to the "Dan Story". I am sure that my other friend would have eventually quit, but I still give Dan the credit for two people quitting; Dan and Him.

Anyway, Dan and I planned and planned. We created a budget and discovered that if we got a couple of bucks from home each week to eat with, we could build the station for about $10,000. In those days $10,000 was just about like a million bucks. I had an idea.

Dan also suggested that we bring along a few other people into this project. Jerry Cesak was the first suggestion. We needed another air personality and someone that would help program the station. Since Jerry was already working at a local station, WASH, and was on the air at WMUC, the campus station, he was a natural.

During the time we were developing the station, Dan was working as a part time DJ at WINX. WINX (winks as we all called it) was a tiny top 40 station that you could hardly get where we lived. I tried to listen to his show whenever he was on. WINX was one of those stations in the early 70's that the DJs would use all sorts of fast talking dialog to introduce the songs. Dan was a different person on the air. It was fun to visit him there also. WINX was in a rather small house out in Gaithersberg, I believe.

After we gave up the idea of having a radio station, Dan got a job selling used cars. He enjoyed it for a while until he was locked in a room with an older couple and was in the middle of a "hard sell" sales pitch to make these people buy a car that the didn't want. He quit that job in a few months.

All during this time, Dan came to live with me in my house in College Park. He stayed my room mate until I got married.

Dan's next carrier move was to get selected for a job with IBM. Dan's first position with IBM was as a typewriter repairman. Because of the large amount of offices in Washington D.C., there was good potential for making a star of yourself at IBM in our area.

And, Dan did. Typewriters to copiers and now in the computer division. Dan is still with IBM and as best as I can tell, having a ball.

Dan currently lives in Texas with his wife Ruth Anne. He has two daughters that live with his first wife and he sees and keeps in touch with them regularly. Fairly regularly, Dan contacts me by Email and we keep up to date. We have not seen each other for many years though as he lives in an area that I rarely have need to go and he never has a call to come to Los Angeles. I am sure we both look forward to seeing each other as soon as possible.

.

Jerry smoked a pipe, had a serious girl friend and was a star in our department at the University. He had landed a part time job Sunday afternoons, on the air at one of the most popular "MOR" (middle of the road) stations in Washington D.C., WASH. This was the same station that Mike Byrnes worked at.

Everyone was impressed with Jerry's success as a DJ. He was as good as anyone else on the air that had been doing the job for many years.

After the WOCR experience, we lost track of Jerry until one day I was listening to a San Diego station about 1994. There was this guy with a familiar voice called Jerry Saint James. I was sure it was him. I called the station and tried to get on the air with him, but he was not able to take calls at the time. Shortly thereafter, the station changed formats and I lost track of him again.

Occasionally, I hear from someone in the San Diego area that tells me that Jerry is a big star down there. I have listened to his program a couple of times but never been able to reach him.

Mike Byrnes knew this guy at the transmitter site at WMAL. His name was Greg Kozikowski. We all called him Koz.

Koz was an Engineer at WMAL Channel 7 in Washington D.C. He had the night shift and only a few responsibilities during his shift. Mostly, he was one of the only engineers around that could still operate and fix a television transmitter. The WMAL transmitter was located right next door to WTOP where Steve Howard would later get me a part time job as an Assistant Director.

All during the design stage when we were working on our transmitters, we would attach Koz for ideas. We had a difficult time getting our transmitters up to spec and we would all continually bug Koz for help.

Koz was always there for us. In the actual days when we were in Ocean City, he came down whenever possible and helped do whatever we needed. We all became good friends with Koz and particularly I stayed in touch over the years.
---
WE WERE ON THE AIR
We eventually did get on the air and received much publicity. The above pictures were from an article in the Baltimore Evening Sun. Such publicity was what was to finally shut us down. I have included two such articles.
The little house we found on Wicomoco Street became our studio after a considerable about of searching. I found our diary which tells the timeline of our efforts. We did build a bunch of stuff, take over this little house and go on the air. Everything was made from scratch. The production studio was a piece of plywood over a bath tub in the bathroom. This was the real bathroom also. There was no "multi-use" allowed.
Dan Mayer found one of our old "cart machines" in his garage. He was the final keeper of the "carts" as well. Here are a few audio promos and the beginning of a current hit of the time.
---
RATES

I found some copies of our rates structure. First a printed sheet that I scanned and OCR'd so you can read it.

This is a folded brochure. The first page, "Another Rate Card Image" is the top section. The nest page. "Still Another Rate Card Image" is the inside scan. This actually reads pretty well.

Of course we had a Sales Contract. This was probably copied from one of our friend's who worked at another station or it may have been from WASH or WINX.
---
OTHER STUFF
This WOCR POSTER was plastered all over the place. I only have one left.

Of course we had Our Radio Station Letterhead.

Another picture, this time of Me Working On A Transmitter in the WASH Workshop . WASH was where Jerry Cesak and Mike Byrnes worked.

Later, after we were shut down by the FCC, we attempted to get an FM license. We felt we could raise the money, so we started to apply for a license. To do so we had to survey many communities. I found these two letters that we used to make our application.

A Letter We Used When We Tried To Get An FM License

Another Letter We Used When We Tried To Get An FM License

Our Business License in Ocean City

Since we could not have a license, we got a Trade Mark

The Ultimate Carrier Current Definition