SECTION FOUR
TEACHING CAREER
---
First School
Those of us graduating with a Teacher's Certificate were helped to find jobs by the college. There were always openings in the many small country schools. I was hired at Olive School about eight miles south and a few east of my home for the big sum of $75 a month for the eight-month term. It was in an Amish community. All my pupils were Amish except one family. In fact, my first grader came to school with very little knowledge of English. Luckily she had an older sister who could help me with her and by the end of the year she could read the first grade reader. There were 15 pupils, with one or two pupils in each grade except the fourth and eighth. That took lots of lesson planning!
My first year of teaching would have been much more enjoyable if there hadn't been a transportation problem. First I was going to live with a family about a quarter mile from school. Although that meant walking back and forth through all kinds of weather, rain, snow, sleet, and heat, I decided to try it. I had been to the school and set up everything for the first day of school. On either Saturday or Sunday, I'm not sure which now, I loaded my clothes and personal items into our car along with my two cats. Since my Daddy was moving into an apartment in Hutchinson, he couldn't take the cats with him. The farm family where I was to live said just bring them here and we'll take care of them. Those cats went wild on the way out and messed all over my clothes! Because the house where I was to stay didn't have electricity, that meant a difficult washing and ironing job just to have something to wear to school Monday. It had been awhile since I had used a non-electric iron, but, luckily, I still remembered how. Someway, I got through the ordeal and was ready to embark on my teaching career that first day of the school term.
I stayed at the farmhouse only a week. Carrying books back and forth, making lesson plans and grading papers by lamplight, preparing my meals, and thinking about the coming winter weather, all went into my decision to live with my Daddy in his apartment in Hutchinson and drive back and forth. As Daddy could easily got to his job in the city, he gladly let me use his car. I had quite a long drive morning and night, but nothing like what folks have here in the Los Angeles area. Furthermore, I had little or no traffic to contend with even in the mile or so of city streets. Of course, I had to get to school in time to start a fire in the pot-bellied stove during the cold winter days. Especially on Monday morning, that was a cold, cold place until I got that fire going.
One-room country schools were not very far apart in those days. A friend, Valda, taught in one down the road from mine. Her home was on a farm fairly close to our two schools. She invited me to live with her and her mother and share rides to and from our schools. That worked for several months until the day when I stopped for her after school and found her very sick. She had a cold and it developed into pneumonia. While she was so sick, I felt I should go back to my Daddy's apartment. During the time I lived with Valda and her mother, we became close friends.
A few years later we were teaching together in the South Hutchinson Grade School. In the meantime, both our lovers had gone off to war and that gave us closer ties. We spent lots of time consoling each other when no letters would come for long periods of time. In the end both of us were lucky to get our men home, marry them and raise a family. Valda died some time ago, but I still remember our good times together and am thankful for her friendship.

Second School
When the end of the school year came, the school board invited me back. I would have accepted had not a better offer come. However, there was an opening in South Hutchinson Grade School, the same one I had attended, and I jumped at the opportunity to teach just one grade and be only a couple miles from my Daddy's apartment in Hutchinson. My contract that year was for $90 a month for nine months!

My Sixth Grade Pupils
(They do look different from my pupils at Olive School)
Since neither of my first teaching jobs paid anything during the summer months, I needed a summer job. For two summers I worked at a soda fountain which was in a drug store. The first summer was when Hutchinson had a Prairie Pow-Wow celebration. The crowds were very big, and since it was hot, everyone wanted ice cream and cold drinks. I became quite an expert soda jerk, and sandwich and salad maker! The second summer while the boss was on vacation, he left me in charge. That meant being responsible for ordering supplies, as well as preparing work schedules and solving any problems among employees and/or guests. I enjoyed that bit of business experience.
During the Pow-Wow there was a mustache-growing contest among the men, and prizes were also given for the best pioneer costumes. There were parades and lots of fun activities for every one. Of course, with my work schedule, I participated in only a few of them. Here are pictures of my Daddy and of my Aunt Rose with a friend showing off their Pow-Wow attire.
| | |
| --- | --- |
| My Daddy | Aunt Rose and a Friend |
One of my frequent customers at the soda fountain during the Pow-Wow was Glenn. I mentioned earlier about his family moving back to their Reno County farm and coming to the South Hutchinson Methodist Church. He told me later that when he saw me leading the singing during the Sunday School sessions, he had made up his mind that he was going to get acquainted with me. However, he had to go to summer school to make up some course before they would give him a teacher's certificate. That meant most of the summer he was at college in Newton. Then he was off to the little town of Zook in western Kansas. Shortly after school started he wrote asking me for a date. Somehow I believe we both knew, even before that first date, that we were meant for each other. However, our chances to be together when he could get home over the weekends were too few. Along came Pearl Harbor. On that fateful Sunday we were together and had gone to Newton for the afternoon. He wanted me to meet his Bethel College teachers, Bennie Bargen and Willis Rich, who were really dear friends. He also wanted them to meet me. He tells all about them in his autobiography. I well remember the feeling of foreboding that we both felt as we drove home from Newton on December 7th. The government was acting fast to draft all eligible men. Glenn, knowing that he would be called quickly, enlisted in the Army Air Corps. He came home from Zook, thinking he would have a few weeks before being called to camp. However, things moved very quickly and in a few days he was off to camp. Then began our three and one half years of courtship by mail. He never had a single leave before being shipped off to Australia. Twice he sneaked home over weekends and I went to St. Louis to see him over the July 4th holiday. That was all our time together until he got home from the South Pacific on July 11th, 1945. In eleven days we were married. Again I'll let my readers get more details about our wedding and all our years together by reading Glenn's autobiography. (http://www.gregssandbox.com/mcmurry).
Some activities for those of us on the home front during the war included buying War Bonds, saving grease and foil, and buying just what we were allowed according to our Ration Books, especially, coffee, sugar and gasoline. Since sugar was scarce, all kinds of recipes using honey in its place were concocted.
Many women went to work outside the home for the first time. Those of us who were teaching were needed right where we were as so many men teachers had been drafted. One of the volunteer jobs that we could do after work was serving as nurse aids in the hospitals. As in so many places, there was a need for more people to take the place of those who were in the service. I enrolled in one of the Red Cross training classes to learn the necessary skills to be of help to the registered nurses. I worked at night and on weekends, but have forgotten just how many total hours I gave. I do remember being tired some nights, but also feeling very needed as there was such a shortage of nurses. Earlier I have told that being a nurse was something I thought as a child I might like to be, but never did I dream of the circumstances under which I would become one.
My teaching career at South Hutchinson Grade School lasted three years. I was basically the sixth grade class teacher. However, we did some more switching classes in the upper grades and I taught music, math and English to seventh and eighth grade classes. Right now, I can't remember who taught what to my sixth graders.
My monthly salary was $110 for nine months the second year, and $125 for nine months the third year.
At the end of my second year I actually felt rich enough to take a trip to California. My friend Juanita was living in Ocean Park because her army husband was stationed near there. He didn't get a chance to come home often. Because she got lonesome in that strange place, she wanted me to come to visit her. She said I could easily get a job at a soda fountain or a restaurant.
That bus ride was quite an experience. I still remember my first look at a range of mountains that suddenly loomed up in front of the bus. I asked the bus driver what I was seeing. Did I feel foolish when he told me they were mountains! My other vivid memory of that trip is the stop at Las Vegas. The gambling places were nothing like today's brightly-lit extravaganzas. Another passenger and I walked up to one and opened the door on a dimly lighted smoke-filled room. The attendant at the door immediately wanted verification of our ages. Unfortunately, since the girl with me was only seventeen, she was told she wasn't welcome. Since I had already seen enough to know that I would be out of place there, I didn't go in either. How different Las Vegas is today!
Juanita was living in Ocean Park just a block from the beach. I had never seen on ocean before and was in awe at the sight of the Pacific. When I was a child in Texas we sometimes drove to Galveston. There we could swim and wade in the warm water of the Gulf of Mexico. How surprised I was when I stepped into that cold Pacific Ocean water. Of course, I spent too much time on the sand in the sun the first couple days and got a very bad sunburn. It made me very sick. I remember thinking that I felt the same way as when I had a bad case of flu. I learned my lesson about the sand and sun. Even on days when the sun seemed clouded over, I was careful about the amount of time I spent exposed to its rays.
As soon as I felt well again, I went job hunting. Juanita was right about the ease of finding work. I started at a medium-sized restaurant a short bus ride from the little house where we lived. I had worked less than a week when I slipped on a wet spot behind the counter and hurt my knee. I had knocked my kneecap out of place some years earlier while playing basketball and had walked around for months with an ace bandage. Now the pain all came back and there was no way I could keep working. Ever since the first injury, I had kept an ace bandage on hand so that any time my knee felt weak I could wrap it tightly. There I was again, limping around with a sore knee. My summer wasn't completely ruined however. I enjoyed visiting with my friend; and I could still limp down to the beach, enjoy the sand and sun, and watch those never-ending waves of the great Pacific Ocean.
Little did I know that in seven years I would be moving to Southern California and would live most of the rest of my life within five miles or so of that same Pacific Ocean.

Third School
At the end of my third year at South Hutchinson Grade School my principal took a job at the Consolidated Grade School in Montezuma, a small town in western Kansas. He asked me to go with him to teach music to all the grades. That sounded exciting to me, and besides, my monthly salary would be $125 for twelve months!

At that point in my life, I was just passing time until Glenn got home from the South Pacific and I thought a change of scenery would be good. Also Daddy had married Marian Rufina Carpenter, who, incidentally, was much younger than he. With no room in our apartment for three people, I had moved in with a friend whose husband was away, also in the service of our country. After all, our apartment had only one bedroom and I had always slept on a couch in the front room.

Daddy's marriage had some good and some bad times. Marian had some emotional problems and would leave Daddy periodically and then come back. I'm sure that the difference in their ages, financial troubles, and maybe some in-law meddling, all contributed to the troubles. The happiest part of Daddy's marriage was his baby girl, Sue Ann, whom he adored. For her sake and because I believe he truly loved Marian, he would always agree to try again to keep the family together. Unfortunately, when Sue was still pre-school age, Marian died of cancer. Before Marian's death, Mrs. Violet Morgan, expressed an interest in adopting Sue. Both Daddy and Marian had known her, and knew she would be a wonderful person to care for Sue. In fact, she and Marian had worked together at a local grocery store. Because of his age and financial situation, Daddy felt he wasn't really able to make a home for his daughter. Tragically, Mrs. Morgan had lost both her husband and a child some time before. She had a lovely home and lots of love to give. Daddy would not agree to an adoption as long as he was alive. However, some type of guardianship was arranged. Sue lived with Mrs. Morgan and Daddy would see her on week-ends. After Daddy's death, the legal adoption was finalized. Mrs. Morgan proved to be a wonderful mother, and Sue, of course, remembers her as the only mother she ever knew.

Here is a good place to go ahead of my own story and tell more about my Daddy. I never knew the reason for the end of the gasoline truck-driving job. After being out of work for awhile, he again became a streetcar conductor. He seemed to enjoy that. Remember, he had been a streetcar conductor in Waco, Texas, when he and my mother were first married. It wasn't too long after he started his new job before Hutchinson, as did so many cities, tore out its streetcar tracks. My Daddy then got a job as a cab driver. When we would go back to Hutchinson to visit, his delight was to take Sue and our family out for dinner. We would also have them come to Glenn's parents' home on the farm so we could spend some time together.

Daddy was always very fond of Glenn. Later on, after Daddy married Charlotte, he would always take Glenn out for breakfast when we visited Hutchinson. I wasn't invited. This was just a time for him and Glenn together. My Daddy never had many material possessions, but he loved to be able to share what he had. Being able to pick up a restaurant bill made him happy.

Daddy came to California a number of times to visit us. He loved our children and especially doted on his Grandson Greg. This is one of my favorite pictures of him taken in 1955 at our first Culver City home.

Sammy Evans Williams
(my Daddy)


On one of our trips home to Kansas, we bought Daddy back to California with us. We were privileged to take him to see the California Redwoods. I'll never forget his awe as he gazed up at those trees. The year Glenda graduated from High School he drove out to California and then left his car here as a graduation present for her. He was also able to be with us for Glenda's wedding. When we moved to Maryland, he came to see his first great-grandchild, Debra, and a couple years later to see his second great-grandchild, Dan. When Jean was married, Daddy was sick. He felt really bad that he couldn't make the trip from Kansas to California. After he married Charlotte, they came to help celebrate our 30th wedding anniversary. They also came to New York City for Greg's wedding. I just related all the above to give a picture of how much my Daddy thought of my family.

My Daddy had smoked cigarettes since he was a young boy. For many years he would roll his own in lieu of the commercial ones. I'm sure they were less expensive that way. Now that we know about all the additives the cigarette companies put in their products, the home-rolled ones also probably were less harmful to ones health. Smoking finally did affect my Daddy's health. Each winter he could expect to have a spell or two in the hospital with lung problems. His doctor was a cigar smoker so he told Daddy to change to cigars and he did. Unfortunately, instead of just making one last all day, Daddy smoked many a day. Dr. Jones was known for his cigars. One always knew where he was in the hospital making his rounds because his cigar would be in an ashtray at the nurses' stations. The time came when he retired and the young doctor who took his place had different advice for my Daddy the first time he took care of him in the hospital. He said those cigars are going to kill you. Just like that, my Daddy quit smoking. I was happy for that, but sorry he hadn't quit many years earlier. I can remember since my childhood how I disliked the smell of cigarette and cigar smoke.

In 1967 at 76 years of age and twenty-two years after my marriage,
Daddy walked his second daughter, Sue Ann, down the aisle.
Sue became Mrs. Jim Franko. Sue and Jim had twin girls who have grown to be lovely women. One, Kristine, is now married and recently had a baby while living in Alaska with her husband who is in the Army there.

Sue and Jim with twin girls, Jennifer and Kristine
This year, 2000, when we were in Hutchinson, we visited Sue, Jim, and their other daughter, Jennifer, who happened to be home for the Memorial Day holiday. Since I never lived at home with Sue, she seems more like a niece than a half-sister to me. I have always been thankful for Mrs. Morgan who gave Sue such a wonderful home and helped her develop into a fine wife and mother.
I'm not sure how old Daddy was before he quit driving a cab, but he was still driving when he was over 80. He knew the city of Hutchinson like the palm of his hand. In 1973, when Daddy was 82 years old, he married Charlotte Philbrick. Charlotte was also a cab driver and they had been friends for a number of years before they were married. Daddy asked me one time if I didn't think he would be foolish at his age to marry. My advice was to do whatever will make the two of you happy. Charlotte had lost her husband a number of years before and had grown children. They, too, encouraged the two of them to make a home together. After being alone for many years, Daddy seemed genuinely happy in his new marriage. Both families have always been sure that Charlotte added years to my Daddy's life. Now he had a real home and someone to cook nutritious meals for him. That was such a contrast to all those years he ate in restaurants.
After Daddy lost Marion and Sue was living with Mrs. Morgan, he had moved into a room near the McVay Cab Company. When we went back to Huchinson to visit, I always felt sad to see my Daddy living so alone and in such a small room. I was happy he found Charlotte and that he had a real home the last eight years of his life.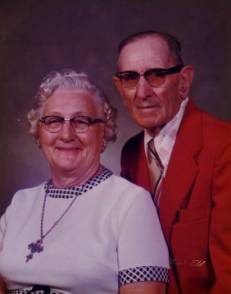 Charlotte and Daddy


After his marriage Daddy's trips to the hospital in the winter months became few and he enjoyed fairly good health until a few months before his death. On his 90th birthday Charlotte gave him a big party in the parlor at the South Hutchinson Methodist Church. He and Charlotte had been going there since their marriage. I guess she finally persuaded him he was a good enough person to be welcome there. I'll never understand just why he had such an inferiority complex and why he thought only "good" people were welcome in church.

During the year following his 90th birthday his health seemed to fail. Once Charlotte called us to come from California because he was so sick. However, after that he seemed to rally for several months. When he again had a bad spell we were not able to get there before his death. After my Daddy's funeral. I, for the fourth time, had to go on that long sad ride to the Pleasant View Cemetery south of Hutchinson. First it was for my grandparents and then for my mother's burial. We had already placed a Williams memorial stone on my mother's grave engraved with her birth and death dates, and Daddy's birth date. Now it was time to add my Daddy's death date.

Glenn's parents had both died some years before my Daddy. Now Glenn and I were the older generation.

In writing all about my Daddy's life, I have gotten far ahead of my own story. Now I'll go back to the summer of 1944 before my move west to teach in the Montezuma Consolidated Grade School.

Since I was going to be a music teacher, I thought maybe taking some music courses in summer school would be helpful. Somehow I had saved enough money to attend Southwestern College at Winfield, Kansas, which was owned by the Methodist Church. I was already familiar with that college because for a couple summers while in high school I had attended Epworth League Institute there.

I must backtrack a little here to tell more about Epworth League Institute. Epworth League was the name of our young people's group at church that met every Sunday evening. Once a year for a week in the summer the church conference sponsored an Epworth League Institute at Southwestern College. It was a time filled with inspirational morning devotions, Bible studies, and evening worship services. In the afternoons we had our recreational time where we had craft classes and played various games. In crafts I made a Chinese checker marble game board which I kept for many years. I have often said that those Epworth League Institutes served as the basis for much of my understanding of Christianity and what it should mean in one's daily life. One year the theme of our worship services was based on the song, "Are Ye Able?". Although it is now in our Methodist Hymnal, at that time it was a new song to all of us. The words were challenging and made a big impression on me, as well as lots of my friends. We sang the chorus with much resolve to become better Christians. The words of the chorus are:

Lord, we are able. Our spirits are thine.
Remold us, make us, like thee, divine.
Thy guiding radiance above us shall be
A beacon to God, to love and loyalty.

One of the verses that I remember best goes like this:

Are ye able to remember
When a thief lifts up his eyes
That his pardoned soul is worthy
Of a place in Paradise?

I'm sure that verse had much to do with forming my ideas about prison reform and my opposition to the death penalty.

We stayed in the college dormitories and ate our meals in the big dining hall. I always looked forward to the Institute, not only for the inspirational times, but also because there I got a glimpse of what it would be like to attend a "real" away-from-home college.

Many years later, during the summer of 1944, my dreams of attending an away-from-home college came true for three months. I enrolled at Southwestern College for both the long and the short summer sessions. It was fun being back in school. I had a great time taking organ and piano lessons. I even learned to play the organ well enough to play for my friend's wedding a year later. As I think about that, I still can't believe that I did it. However, I'm afraid that since that time, I haven't kept up my organ playing skills, such as they were. Even when we bought an organ years later, I didn't play it much. Someway, I have always preferred having my fingers on piano keys and not having to worry about my feet.

In addition to piano and organ lessons, I took harmony, music history, counterpoint, and even typing. My typing teacher had only one arm and had written a typing course for others like him. However, he was a good teacher for all of us two-armed typists also. Now with a computer to use, I'm thankful that I had that opportunity to learn to type. Like piano playing, once you get the fundamentals, they stay with you. I actually did very little typing from that time until I worked at the University of Southern California years later, but my fingers still remembered where to go. Because it's so easy to correct all the mistakes I make, using the computer is much more fun than the lowly, almost obsolete, typewriter.

There was a large house near the campus where ten or twelve of us lived. The housemother fixed our meals, and we ate together around her large dining room table. One of the girls was Japanese and her parents were in a camp where our government kept the Japanese people during the war. She had been allowed to stay in Kansas to continue her schooling. How unjust I felt it was to put our own American citizens in virtual prison just because of their race.

I thoroughly enjoyed my summer at Southwestern, but all too soon it was over and I headed west to Montezuma. My year there was an enjoyable one, except for wanting the war to end and Glenn to come home. At that time there was a music textbook for each grade and we taught the "do, re, mi" method. I had twenty minutes in each grade and went from room to room with my pitch pipe. Once in awhile we would go to the assembly room with a piano, but most of the time we just sang "a cappella". The exception was the combined seventh and eighth grades. I always used the piano with them except for an occasional theory lesson. They had not had previous music reading training and seemed uninterested in learning. My fifth and sixth graders were able to sing simple two-part and an occasional three-part song from their textbooks by the end of the year.

Since music classes didn't fill the whole school day, I taught arithmetic and English to the combined 7th and 8th grade class. That gave the principal, who was their regular teacher, some time off to do his supervisory jobs. I enjoyed those classes, but grading papers took lots of time during my evenings. It was my theory that if I didn't show each pupil what was wrong with his work and what to do to fix it, he would not learn his math and English. Of course, there wasn't too much to do with my time in that little town anyway.

Lucky for us teachers, there was a small hotel in town. Four of us lived in the second floor rooms. At the end of the hall was a small kitchen that we shared. In fact, we cooked and ate together. Each week one of us would be the cook and another would be responsible for cleanup. When we had leisure time, we used the kitchen table to play games. During that school year, we all became very close friends. I still hear from one each Christmas. My best friend was Annie, whose parents lived on a farm in a neighboring community. She took me home with her during long holiday weekends and at Thanksgiving. Annie was an accomplished organist and pianist. She taught music at the Montezuma High. Through the years our families have visited each other in Colorado, Kansas and California. Unfortunately, she died from a brain cancer a number of years ago. The last time we were in Longmont, CO, we went to the church she had attended and saw a plaque in her honor in their choir room. It happens that my South Hutchinson friend, Katy, lived in Longmont also and she had become acquainted with my Montezuma friend, Annie. We certainly are a mobile people. We never know, wherever we happen to be, just whom we might meet who knows us or someone we know.

During the year I sent Glenn daily letters and tried to include whatever pictures I thought might interest him. Dorothy, one of my teacher friends in the rooming house, was married and her husband was stationed in Germany. We often shared our longing for our men to come home and would console each other when mail didn't come regularly. We took some fun pictures to enclose in our letters. Here are two examples:
An annual event during the school year was "Tacky Day." I'm in the middle between Bert and Olive on the left, and Lois and our principal, Mr. Hargadine, on the right.




Montezuma Consolidated Grade and High Schools drew pupils from long distances. The school district had quite a fleet of buses. Dorothy and I are pretending that we are trying to break the lock on the gas pump. We sent this picture to our soldiers to impress them with one of our home-front hardships - "gas rationing".

With so many buses traveling over country dirt roads, the school had quite a few "mud" and "snow" holidays during the year. Naturally, we teachers who lived together in the hotel enjoyed those days, having music and playing cards. They all had to be made-up at the end of the school year, however, so that part wasn't so nice.

None of us had cars so we were pretty well penned in. We walked to school, church and the few little stores in town. One of the men who lived in the hotel would sometimes take four or five of us to the neighboring town to a movie. That would be the highlight of the month! Despite how boring it sounds, we did have a good time in Montezuma and I felt lucky to have such pleasant and easy-to-live-with friends.

As the school term ended, I had heard from Glenn that he would surely be on his way home soon and that I was not to sign another contract to teach next year. He actually left the Philippines June 14 and arrived in San Francisco July 5. He took a train across the country to Leavenworth, Kansas, and another train to Hutchinson, arriving July 11. On July 22, 1945, we were married. That was the end of my career as a public school teacher.