The University of Southern California
Chapter 10

from
by Glenn D. McMurry

---
GO WEST, YOUNG MAN, GO WEST
I had been California bound, in my dreams, for a long time. Actually, I had wanted to attend the Cinema school at the University of Southern California way back in 1933 while I was still in high school. Finally, in the summer of 1950, we decided the time had come for us to venture west. I now had a wonderful, caring wife and two beautiful little girls, Glenda and Jean. Our worldly possessions consisted of my grand piano, which we left at the farm, our Ford car, and our Liberty trailer home. Of course, our trailer had all the things necessary for keeping house, and our personal belongings. I had installed a radio and record player in the trailer. Without my piano, which we had to leave at the farm, we could still have music. While I was teaching at Jetmore, I had acquired a number of long playing records that we really enjoyed. Truly, we felt wealthy in many ways.
Some months earlier, while I was still teaching at Jetmore, Kansas, Mom had read in the Hutchinson Herald paper that teaching assistants were needed at the University of Southern California
"Donít you think you should apply, Glenn?" Mom asked. "Who knows, you might be lucky enough to get one of those jobs."
I took my Momís advice and sent in my application. We knew we were taking a big risk in leaving home before knowing we had a job to supplement our income, but we had decided to go, period! We had some money coming from loans to my folks, and some from the farm projects I had initiated and financed. In addition, I still had my G.I. Education Bill benefits.
The G.I. Bill was wonderful for the veteran who wanted to further his education. Veterans were given financial aid for a year of education for each year of service. Since I had used only eighteen months of my time, so far, I was still eligible for two and one-half years of benefits. In addition to paying for tuition and books, the G.I. Bill provided $90 a month for living expenses. Luckily, this was eventually raised to $120. Since I already had three degrees, I didnít really care about getting another degree. I just wanted to study at the USC Cinema Department so I could produce educational films.
In the summer of 1952 when I went to Germany, I failed to notify the VA that I was going to be out of the country for three months. When I returned to USC, the VA said that since I didnít notify them that I was leaving, my benefits were automatically canceled. Consequently, I lost a semester of free education. I might have gotten it reinstated, but I didnít push it. By that time I was working at the department more than I was going to school. I still had all the privileges of using the equipment, and I had already taken the basic classes in film production. I figured that regulations are regulations, and let it go at that.
One evening, just two days before we were to leave for California, we went to visit our good friends, the Reverend Mr. and Mrs. Morris. We wanted to tell them good-bye and let them know that at last we were on our way to California. While we were at their home the telephone rang. It was Mom with some good news.
"Hello, Glenn. I wanted you to know that you got a telegram from USC saying that your application has been accepted. You have a job," she said.
Getting that message, even though via the lousy telephone system we had at that time, sent a thrill down my spine. Imagine I had a job at my dream university, USC! Now we knew we could make ends meet financially.
Our church sponsored a camp for boys each summer at Camp Wentz, a Methodist campground near Ponca City, Oklahoma. In 1949 I had served as a counselor, and as I have already related, our minister, Rev. Sam Staley, who directed the camp, had earlier given me the job of making a film about the camp. When he lawrned that we would still be around this summer at camp time, he had asked me to serve as a counselor again. Since Oklahoma was on our way to California, we decided to pack our trailer, go to camp, and then head for California and USC.
Mom was one of the cooks at the camp, so we said our good-byes to everyone except her. We tried to assure our families that we would be back after I finished my cinema courses. I guess, in a way, we thought we would come back to Kansas, but deep down, we had our doubts about just what our future would be. Leaving for California was a traumatic experience for all of us. We had only seen it on a map, and it seemed very far away.
"Donít worry, folks, weíll be back next summer," I said.
True to that promise, we did return that next summer. In fact, we went back to Kansas at least once a year for many years. However, when we left in the summer of 1950, we really didnít know that Kansas would never be our home again.
During the week in camp, while I was fulfilling my duties, Darlene and the girls visited her relatives who lived in Ponca City and nearby Hillsdale.

The Camp Cooks (Mom is in the center)
At the end of the week, it was time to tell Mom good-bye, as well as the other cooks and Rev Staley, and head south to Texas. We visited our friends, the Wainner family, and continued all the way to the Gulf of Mexico. There we visited Darleneís relatives. Then we turned toward the West. Now we were truly on our way to California!
I hadnít driven my rig on long trips before. We had just gone from Hutchinson to Jetmore and back. For sure, we hadnít driven through any mountains or deserts. However, we were very confident that we could make it to California in good style.
That trailer was a godsend. Imagine a home on wheels! Everywhere we stopped, our little home was with us. We didnít have to take our meals in restaurants or find motels at night. We had no toilet facilities, however, but they were nearly always available in parks or service stations when needed.
In the early Ď50ís, there were no freeways, just black top, gravel and, sometimes, cement two-lane roads. The famous road across the country was Route 66. As we traveled back and forth from Kansas to California through the years, we watched as more and more of the old road was taken over by the new Interstate 40. When we started on a trip, we'd always speculate just how much of the old road we would still have to travel, slowing to 30 or 35 miles per hour as we went through a town which had not yet been by-passed by the new four-lane 70 or more mph Interstate. Today many of those towns that grew because of travelers on Route 66 have almost become ghost towns. Recently, there has been a resurgence of interest in the old Route. On a recent trip we detoured off the Interstate to stop at a souvenir shop that is filled with memorabilia of those days in the 50's. Route 66 now has it's "fan" clubs across the country that are restoring some of the roads and dotting the Interstate with signs leading to segments that can be traveled.
Pulling our heavy trailer across the country was quite a job for our Ford. After all, it wasnít a truck. It was just an ordinary sedan designed to carry people. Expecting it to pull a herd of elephants from Kansas to California was hardly in Detroitís original plans.
The first problem we encountered was with the split wheels on the trailer. During a routine check, I noted that the bolts holding the two halves of the split wheel together were popping apart. In fact, there were only three of them left on the wheel I was examining. Wow!
"Goodness, Darlene! Look at that wheel! I have to take care of it right now."
It was a big job to unhitch the trailer from the Ford and remove that wheel. Finding a service station that could help me with my problem wasnít easy either.
Darlene took care of the kids and Snowball, our cat, while I drove to the next town for help.
"That type of rim should have gone out with the caveman," I was told. "You were lucky to discover the problem when you did."
From then on, I kept a careful watch on those wheels and at the first opportunity exchanged all four split wheels for regular ones.
Later, I read about one man being killed when a high-pressure truck tire mounted on a similar type wheel exploded, and the rim hit him in the head as he was checking the air pressure. That made me realize how lucky I had been to discover those broken bolts when I did.
As long as the highways were level, things went along very well. It was when the upgrades were long that we had to go very slowly. There were many times on our trip that, even in low gear, it was difficult going. Remember this was before the freeways with their rules about the allowable percentage of upgrade and downgrade. On the difficult climbs, I always had the fear of backing up my rig. Going down the hills, however, was a different story. I would try to get up enough speed on the downgrades to help push me up the next hill. Of course, that was risky. I knew that there was no chance of making quick stops with that 6,000-pound outfit. Once I started to roll, Iíd better point straight ahead, and keep the rig between the ditch and the white line dividing the streams of traffic. Sometimes there was no line at all and that made night driving very difficult. The headlights of oncoming cars would blind me. There were some very scary moments, for sure.
The roads to south Texas where Darleneís relatives lived didnít give us much trouble. Our first real scare came after we started west and were still some distance from the Texas-New Mexico border. As we were driving along, the land had seemed rather flat, but I suppose there had been a slight upgrade for some miles. At any rate, suddenly we saw that we were approaching a deep, wide canyon. Consulting the map, we discovered that we were coming to the Pecos River Canyon. The canyon was so deep the river at the bottom was hardly visible from our road.
Our road began to weave around and around as we went down deeper and deeper. My rig kept gathering speed.
"Glenn, look there on the other side of the canyon. See that road with cars winding up it. Do you suppose weíre going to have to climb back up on that road?"
"Iím afraid so," I answered, hardly taking time to talk as all my attention was on the downward road at that time.
The road ahead began to straighten out somewhat. Thanks goodness for that! My real problem, however, was that we were going down lower and lower and I was going faster and faster. I had already applied my electric trailer brakes to slow our descent. My usual rule was to use the trailer brakes first, then, apply the car brakes. I thought for awhile I had complete control of my outfit.
My confidence soon faded when I noticed my speed gradually increasing even after I had applied the trailer brakes. Next I applied my car brakes, and at first I thought they were going to hold.
"Glenn," Darlene asked, "are you sure our brakes are working? We seem to be going faster and faster."
I certainly didnít want to admit that our car brakes were about gone.
"Donít worry, weíll make it!" I said hopefully.
By this time we were going nearly fifty miles an hour. I knew I was in a fix. Both trailer and car brakes were at their limits. All I could do was hope the road wouldnít have too many sharp turns. I certainly didnít want to round many curves at the speed I was going.
The next mile or so was really tough. About the time I thought I was going to hit sixty miles an hour, the speedometer began to edge down to fifty-five again. Then it went down to fifty, then forty and then to thirty. Then I saw a sign indicating a sharp curve ahead, and warning us to go slow. Of course, that warning was of no value to me. I was helpless, and had to take that curve and the next one at the speed my rig wanted to go.
Finally, after several very scary twists and turns, the road in front of us straightened out and led directly to the river bridge.
When I hit that bridge and saw the road turn upward, I breathed a big sigh of relief. How lucky we were that we hadnít met any cars on that long scary ride down.
Our troubles werenít over, of course, because now we had to climb back out of the canyon. I shoved my car in low gear and pressed on the gas as hard as I could. Several times I was afraid I wasnít going to make it as we wound around and around up the canyon wall. Finally we got to the top and back on relatively level ground. How thankful we were! You can bet that the Pecos River Canyon was one of the most memorable parts of our entire trip to California.
Weíve crossed the Pecos River a number of times through the years. Now that the freeway goes over it, the bridge is much higher. The last time we crossed the Pecos River, we looked down and saw an old bridge and parts of one of the old dangerous roads. Although we were crossing the river farther north this time, that old bridge and road certainly brought memories of our first trip to California and the scary ride through the Pecos River Canyon. Thank goodness for our wonderful, safe Interstate Highway system of today!
Everything went fairly well for some time. We began to think that the southern route to California was a snap. Then it began to get hotter and we realized that this was the desert we had been warned about before we left Kansas. Mile after mile we drove, seeing nothing but scrub trees, soap weed and Indian huts.
The Ford engine began to run hot when we went up even small grades. When I saw that the water temperature indicator hit the top marked "HOT," I really got worried. Would the engine blow up? Goodness, I hoped not!
At the next service station I stopped to check the radiator water. I had turned the engine off, thinking that would let things cool off. Then I grabbed a rag and loosened the radiator cap.
"Donít ever take off the radiator cap when it is hot like that. Leave your engine on and let it cool down awhile," the station attendant yelled at me.
It was too late. I had already loosened the radiator cap too much. It blew out of my hand and scalding rusty water spurted several feet into the air. Had it not been for the rag I had placed on the cap, I would have been scalded.
"I tried to tell you not to take that cap off. You were very, very lucky."
The attendant gave me a lecture on how to take care of a hot engine. I was embarrassed over my ignorance. I thought, considering all my experience with farm machinery, that I knew all about engines. I soon learned that my farm experience didnít have anything to do with desert driving.
We gassed up and continued our trip. We would sometimes stop during the hottest part of the day and then try to drive at night as long as possible. Of course, this was before the days of air-conditioned cars. That drive through New Mexico and Arizona was a hot time, but the low humidity helped. One memory was when we stopped one afternoon at Gila Bend, Arizona, and saw a thermometer registering 120 degrees in the shade! We had to remind ourselves of a few times during Kansas summers when it got to 110 or so with humidity, and were thankful for the dry air of the desert. After all, we could put up with any inconvenience now as we were getting closer and closer to our goalóLos Angeles, California, and the University of Southern California.
I had crossed the Colorado River twice by troop train during World War II. At those times I had no maps to follow and could care less about various river bridges and scenic views. My thoughts the first time were about where I might be headed, and the second time on the return trip they were about getting home at last! This time was different. We were following our maps diligently and waiting for that thrilling moment when we saw the "Welcome to California" sign.
"Look kids, thereís the bridge spanning the Colorado River. When we cross it, we will be in California!"
How exciting to see that silver painted structure, starting in Arizona, crossing the river, and ending in what was to be our new home state.
Near Yuma, the California border patrol stopped us to inspect for any vegetation we might be carrying into the state. That was quite a surprising experience for us, but we passed the inspection with no trouble, and headed for the Colorado River Bridge.
Since we had to go down quite a grade to the bridge and then back up on the other side, there was no chance to stop until we were up on level ground. Then we stopped so we could plant our feet on California soil. Of course, we still had miles to go, but we felt the worst was over and we were thankful for a safe trip this far.
We headed down a straight road to Brawley. Then we turned in a northwestern direction toward San Bernardino, and began to see many date palms and orange trees. Many of these are gone today, but they were quite a sight to us Kansans on that first trip to Los Angeles. We could see why this area was inviting and why many "Okies" and others came to get jobs at the farms and orchards.
When we got close to San Bernardino, we began to meet more and more cars. At the speed we drove, they were passing us on both sides. Three-lane roads each way were a new experience for us. Finally, we got to Los Angeles. Our map told us to find Figueroa Street and go south to 34th Street to find the university. F-I-G-U-E-R-O-A! We wondered how to pronounce it, and how eager we were to get to USC.
That drive down Figueroa was very scary. It was about five o'clock and there was certainly lots more traffic than we had ever experienced. It seemed we drove forever, and each intersection had its display of red, green and yellow lights swinging from cables over the intersection, or mounted on the four corners. We later learned it was the longest street in the world. That Sunday, although we really didnít travel very far on it, it seemed miles to us.
As we neared 34th, we were on "Automobile Row," which meant many lots loaded with both new and used cars. We later learned that these car lots kept hundreds of lights blazing day and night. Electricity must have been plentiful in those days. At night, there were often spotlights playing on the sky advertising some special sale. Spotlight fever, I called it. It reminded me of my days in the South Pacific during the war when our searchlights would be looking for enemy planes.
"Where is the University of Southern California?" I asked a guy at a stoplight.
"Turn right on the next street," the helpful driver yelled back at me. "USC is right there. Good luck."
I turned right on 34th street, but I didnít see anything that looked like a campus. There were many houses, but where was USC? I was expecting a campus, similar to the one at the University of Kansas. We drove all around and found that there were no open spaces, just residences, Quonset huts, and some school buildings all jammed together. We soon learned that space was scarce in Los Angeles. After we got acquainted with the campus, we found it covered quite a large area, but there were no open spaces.
It was getting late in the evening by the time we found the USC campus. We needed to find a place to park our trailer. Certainly we couldnít park it on the side of the street. We would need facilities, like water, electricity and toilets.
We stopped at the first filling station we could find, and asked where there was a trailer park.
"Thereís a trailer park in Bell," one service man said. "Itís the only one I know about."
He gave us directions to Bell, and there we went hunting for that park. It was like looking for a needle in a haystack. You know, even then, the Los Angeles area was a sprawling mess of little communities and it was hard to find where we were. There was miles and miles of nothing, but city. We just couldnít get used to a stop light at every corner.
Finally, we got to that trailer park and got hooked up. Although we were very tired, we were also was very, very excited. This was the first parking spot for our trailer in Los Angeles.
To read about our two years of trailer life, our new baby, and our move from trailer life into houses, click here.

SCHOOL and WORK EXPERIENCES at USC
Teaching Assistant Job
The next morning after our arrival in Los Angeles, my first order of business was to check into the Education Department and let them know I was here for that job I had been promised.
I learned that Dr. Donald Doane, the person who had hired me as his graduate assistant, had died quite suddenly. I was told to see Dr. James D. Finn, who had been hired to take Dr. Doaneís place.
During the next few years I got very well acquainted with Dr. Finn. I have to admit that he wasnít one of my favorite professors. Although he was a brilliant man and an excellent teacher, he had a very demanding manner. In fact, he was a first class egoist in my estimation. He took advantage of his students and made them feel very unimportant. Knowing he was to be my new boss, I got along as well as I could with him. I tried to do what he asked me to do to the best of my ability. After all, I needed that job so Iíd better behave myself.
My graduate assistant job was interesting. Dr. Finn gave me two primary responsibilities. My first job was to teach the students taking lab classes how to operate all the different pieces of AV equipment. I had two lab classes each week. Then I was to observe all of his AV classes. I was always to sit near the 16mm projector and slide projectors so I could operate them, as he needed them. I was constantly on the alert through all of his classes to operate that equipment, just exactly right.
The equipment supplied wasnít exactly new and sometimes things would go wrongóa projection bulb will burn out or a film would break. For some reason, I had the feeling at times that he thought it was my fault. Sure, I would make errors from time to time and I admitted them. However, when he would publicly blame me for a mechanical problem, which wasnít my fault, that really upset me.
Jim Finn was a perfectionist, and he managed to make everyone feel inadequate. Although he was a brilliant man, his lectures were sometimes rather boring. However, he had many good ideas to offer his students. His lecture on the importance of giving proper instructions always proved to be a fun time.
"You!" he would say as he pointed to some unsuspecting student. "Come here and help me."
I often felt sorry for the student heíd choose. It might have been fun for the onlookers, but I was sure the student in front of the class felt like two cents.
"Here," he said, after taking off his coat and holding it in front of the student, "your job is to tell me how to put on my coat without using your hands. Remember, I donít know anything about a coat or how one is to wear it. You will have to explain every movement that I am to make. So, think it over carefully, O.K?"
Easy, right? When Jim did things, everyone knew it wasnít going to be easy. He didnít want it to be easy. Immediately he played the part of an ignorant off-the-street nut. He always had two or three ways to interpret what the student said.
Jim putting on his own coat with the instructions given by the student was hilarious. The class was in an uproar.
"Do you see?" Jim would ask. "You have to study the problem and select the best words to explain what is to be done."
"You, there," pointing to another student to be humiliated, "do you think you can do it?"
After going over the routine again and again, it was obvious that Jim could confuse the best of them.
Oh, well, he made his point to me. After some fifty years, I still remember at least one thing he taught me. A teacher needs to be specific about giving instructions.
Having a personality somewhat akin to his, I found our ideas crossed each other several times and that was difficult to take. Of course, his ideas always won over mine. After all, he was the boss, and I was only his assistant.
When I was in one of his graduate classes, however, he once gave me a compliment in front of the class. He said he respected me for my ability to listen carefully and, then, when I did contribute to the class, I usually had something important to say. Thatís the one and only time I received a favorable comment from him. Well, one compliment was better than no compliment.


The Cinema Department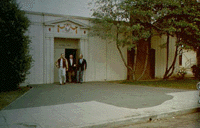 The Cinema Building as I knew it for 19 years (1950-1969)
I'm on the right, but do not recognize the other two men
As I explained earlier, the first thing I did was to be sure of my job as a teacherís assistant in the Education Department. As soon as that was done, I hurried to the Cinema Department. It was a great moment in my life when I enrolled for my first classes in the Department of Cinema, USC. For years I had waited for that day. It was early in my high school days that I learned that the University of Southern California had a film department where I could learn to make motion pictures. Actually, I first decided that I wanted to make motion pictures when I saw that adventure film from Africa at Sherman Junior High. Then, here came the Tarzan films, and more than anything I wanted to be able to make films. I am reminded of the Bible story of Jacob who had to work for his future father-in-law fourteen years before he was allowed to marry the girl he loved. The way I figure it, I had to work and wait for about twenty years to finally arrive at a place where I could learn to make films.
My introduction to the Cinema building was a surprise. In my dream world of Hollywood, I expected a rather elaborate structure. No such thing! It was just an old wooden building. I later learned it had been made from barracks left over from World War I. The rings embedded in the curb in front were left over from the time when there were residences in the area. As the milkmen made their deliveries in those early days by horse-drawn wagons, they probably used those rings to tie their horses as they delivered the milk from door-to-door.
There was only one main entrance to the building. It had two large doors that swung outward. Above the door some resourceful person had carved some interesting scenes symbolic of the department. I donít know what happened to that carving. Some person may now have it mounted on his patio wall. Iíd love to have it on my present "Western Front" building which I use as a shop.
The Cinema building was constructed of wood and stucco, which was typical and still, is typical of many California buildings. Just inside the door was a short wide hall. On the right was a bulletin board with all kinds of notices to staff and students. Also on the right was the door to the seminar classroom. To the left was the suite of offices housing the secretaries and key staff persons.
Directly in front of the main door, was the entrance to the main stage. It was a very large room with a high ceiling, obviously big enough to have a hayloft in it, and now a good place to construct all kinds of sets for shooting pictures. The huge door was all padded to shut out unwanted noise when sound pictures were being shot. On the far right were two things, a large door through which large items could be moved onto the stage, and an electrical panel containing many large power cables. It takes thousands of watts to light a movie set properly. I well remember that, during a complicated shot, it was hard to get around on the stage without stumbling over cables, sets, cameras and sound equipment. Of course, the many students and staff persons who were scurrying around the room also added to the confusion.
At the far end of the room was the glass-enclosed booth where Dan Wiegand, using his expertise, controlled every aspect of the movie-making process dealing with sound.
Dan and his assistant, Ken Miura, taught classes in sound. We learned not only the theory of sound itself, but also how to use all the sound equipment. Recording techniques, how to mix sound tracks, and how to transfer them to our film productions were essential lessons for us would-be movie producers.
Room 1 was the large room at the far end of the patio. It not only served as a classroom, but was also a theater. The windows were fitted with light-tight curtains. The staff boasted that anything that could be projected could be shown there. Of course, in those days, that meant slides, filmstrips, and both 16 and 35mm motion pictures. When showing any of these, it was important to have a dark room. Two large loud speakers graced each side of that big perforated canvas screen. "Shut that door," was often heard during screenings.
"That door" near the back of the theater was the main exit onto the patio. Students were always opening it to see what was being shown. Extraneous light hitting the screen always disturbed the people watching the show, and was especially annoying to the projectionist in his sound proof room at the rear of the theater.
The patio just to the right of the main stage was the gathering place for students and staff. That patio was rather sacred to the students. It was there that many ideas were spawned for making pictures. It was also a nice place to eat lunch while enjoying the well-kept grass, tropical plants, trees and open sky.
The stock room was very important to both staff and students. Here all the equipment for shooting films was kept. It was always locked and cinema students had to get permission to checkout anything they needed. Interested persons from the motion picture industry had donated some equipment. After the war, surplus cameras were acquired from the military forces. I remember that we had several Bell & Howell cameras and one Kodak Cine Special. Later, a Mitchell camera arrived from somewhere and the staff really thought they had "it made" to be able to use such a fine piece of equipment.
Of course, after any film was shot and developed, the studentsí next stop was the editing room. There every foot of 16mm film was inspected, cut into hundreds of little pieces, rearranged and spliced together according to the producersí dream plans.
Mel Sloan was the editing teacher, and he did a good job of teaching us the importance of putting our film together in sequences that properly told our story.
We first cut our film into pieces, one piece for each scene. These pieces were numbered and hung on a board fitted with hooks made from paper clips. Since there were usually several shots of each scene, they all had to be viewed and the bad shots eliminated.
However, Mel would always warn us, "Save all your NG film. You never know when you might need it." (Incidentally, NG meant "no good,")
The next step, and a very important one, was splicing the pieces together. Before we used any film we had shot, we practiced on junk film. Using scotch tape was a no-no. It would cause the film to get hung-up in the projector.
Mel taught us to recognize the emulsion side of the film, how to scrap it away on one piece, put on the cement, and quickly stick the two pieces together. He always emphasized the importance of making good splices. He would jerk on our splices to test them, and often we had to try again. We soon learned by experience that nothing was more embarrassing than to have a splice break when one was showing his "masterpiece" for his teacher and the class.
The still lab was just to the right of the editing room. It was here in the "darkroom" that we students were taught to develop and print our still film. Before we were allowed to shoot movies, we had to learn how to make good still pictures. The lab could handle only black and white film. Color film wasnít that common in the early 50ís.
In a separate building was a lab for developing and printing black and white motion picture film. Only a few junior or senior students used color film, and it had to be processed elsewhere.
Next to the still lab was the animation room. I wasnít very good at making animated film. Every little detail was a problem to me. It was so darned technical, time consuming, and painstaking to draw those hundreds of pictures! I soon discovered that animation wasnít for me. The "Bouncing Ball" project the teacher gave us was "for the birds" as far as I was concerned!
There were several other classrooms. It seemed that the teaching staff was always shifting classes around to accommodate a particular instructorís needs.
Actually the cinema building was a hodgepodge of rooms containing many interesting items, such as roles of 16mm film in fiber boxes, all kinds of audiovisual equipment, and old sets stored here and there. The drama department had dumped many of its old sets there, and the cinema production staff and students made good use of them. Those guys were resourceful in making sets they needed to complete their projects. Sets were made over time after time. Most of the students were long on ideas, but short on money. They "made do" with what was available at the time.


Dr. Beck and Dr. Morkovin
The head of the Cinema Department when I arrived was Dr. Lester Beck, who was a psychologist. He and I got along very well together. He was an educator and so was I.
Dr. Beck hired me for one of my part-time jobs, the night school principal. It wasnít a particularly interesting or challenging job, but it was a source of income. I did it for about a year.
I also got very well acquainted with Dr. Beckís predecessor, Dr. Boris Morkovin. He was a very interesting person with a great appreciation for the hearing impaired. It was through him that I discovered the John Tracy Clinic. At the clinic they didnít believe in signing for the deaf, but thought all should learn lip reading. The theory was that signing always sets the deaf persons into groups by themselves, and calls attention to their handicap.
I was convinced it was a good idea. I became acquainted with a deaf lady who worked in the clinic. She did such a good job of reading lips that it was months before I realized she was deaf.
Dr. Morkovin was sure that using films with good close-up shots of people talking would be a good way to teach lip reading. The university made a whole series of films for him. Our daughter, Glenda, was in one of them called "Barbaraís New Shoes."


My Classes and Film Projects
I had planned to take only classes relating to motion picture production. However, I found myself taking education courses that I had really didnít want because of Jim Finn. He was just sure that I was going to be one of his "boys" and work for a doctorís degree. Since he was my adviser and my boss on the part-time job as his teacher assistant, I didnít have too much choice about such matters.
I took a course in the production of filmstrips where I learned to use the view camera and to process sheet film. My project was a filmstrip called "How to Operate a Slide Projector."
However, the classes I enjoyed most were those dealing with film. They included camera, editing, animation, film appreciation, production, and directing.
Bill Mehring was in charge of the Production I class. He was a great teacher and I liked him very much. The first day of class Bill suggested that we find a person to pair up with. Since I hadnít had time to get acquainted with the other students, I had no idea whom I would select. When the class took a break for coffee, I was walking around the patio wondering what to do. Just about that time, I noticed a rather short pleasant looking guy who was looking in my direction. Then he walked straight towards me.
"Would you like to team up with me?" he asked.
"Sure, Iíd love working with you!" I said.
That was the beginning of many pleasant hours Leon Gold and I spent together. To read about what turned into a "McMurry-Gold Partnership," and a long friendship between our family and Leon and his wife, Toby, click here.
There is no way I can relate all the details of my nineteen years at USC. As time went on I took fewer classes and worked more hours. More about my other jobs later. I was able to fulfill my dream of making motion pictures, however. Before I left the department in 1969, I had worked on a number of films:
"Bridges for Ideas," about communication.

"Brotherhood, USA," a project I re-edited for the National Council of Christians and Jews dealing with its youth program.

"Disneylandís Christmas Parade", where I was in charge of five crews.

"An Experimental Film", a film with a weird soundtrack, which I re-edited.

"McMurry Magnetic Reader", about the tape reader I had invented, manufactured, and sold for a number of years. (More about this later)

"Music Education Convention Talk", made when I attended the national convention of Music Educators.

"Rosie", a religious title I helped put together for the Christian Church. (I used my little vacation trailer as an editing room for this project. Before I finished the job, there were bits of film all over the place.)

"Tomorrowís Harvest," a student production for the Future Farmers of America organization. Since the original version had such a downbeat approach to farming, the sponsor didnít think much of it. Herb asked me to see what I could do to improve on it. That was quite a challenge. I hate to admit that my motive for re-doing that film was to get even with the guy who made it. During the shooting of the film, I felt he played a dirty trick on me. When he asked me to drive an old tractor to the location where they were going to take a scene or so, I assumed I would have an opportunity to take part in the making of the film. Oh, no! I rode that tractor for hours over rough roads. I was afraid I was going to run out of gas. It was late in the afternoon when I finally got to the location.

"Glenn," the student director said, "I didnít know where you were on the road, so I finished shooting the scenes I needed. Sorry!"

That old tractor had steel lugs on its wheels and the spring steel seat made the ride even more difficult. My "seat" was sore when I arrived, and believe you me, I was mad! After all that, I hadnít had a chance to take part in a single scene.

"Donít worry, Glenn, someone else will take that tractor back to the farm," I was informed, as if that was any consolation.

I must have done a good job on the re-make of the film, as the sponsors now seemed more satisfied with it. I felt good about my job, but Iím sure the original director felt betrayed that someone messed with his product.

"University Women," a film about USC programs tailored especially for women. The university wanted to attract more women to the campus.

"Trojan Tempo," a promotional film for the university which featured the Trojan Band.
Delta Kappa Alpha

In the early 50ís I was honored with a life membership in Delta Kappa Alpha (DKA), the cinema student fraternity. I was given a certificate and nice gold pin. Today that pin is one of my many pins on my straw hat

.
Greek name fraternities were somewhat of a mystery to me at that time. In my Bethel College days such organizations were not allowed. When I was at USC, the DKA was very active, but now, Iím told, there is no such organization. I wonder what happened to it.
For several years when the DKA was going strong, the members would hold a big banquet to which Hollywood celebrities were invited. One of the purposes of the banquets was to interest possible donors who might give scholarships to the department. The department also promoted goodwill with the movie industry by inviting well-known directors, editors, producers, and other Hollywood personalities as guest lecturers on the campus. One or two of them along with a staff member were honored at each annual banquet.

Brenard Kantor (center), head of the USC's Cinema Department, with Melvyn LeRoy (left) and Sol Lesser (right)
You can imagine that I was in awe at the opportunity to meet real Hollywood personalities when they came to the department. Also, in taking care of the invitations and acceptances for the banquets, I got a thrill working with all the names of people I had seen on the silver screen. It was for my help with the banquets and in keeping their mailing lists that they honored me.
Since my family was still "star-struck" by the very idea of living in "movieland," we were always eager to see and meet movie stars. Those banquets were an opportunity for Darlene and me to dress in our "formal" attire and be seated with people we had seen only in the silver screen. Glenda and Jean were especially excited when they were asked to serve as hostesses by checking hats and coats at the DKA banquet.
One of the people I remember at the banquets was George Cukor, who produced one of my favorite films, "My Fair Lady." I was disappointed when I heard him talk, however, because he used, what to me, was foul language. I wasnít used to hearing the like among my associates. Little naive me!
Grandma of the "Beverly Hillbillies" was there. I wouldnít have recognized her without her make-up if someone hadnít pointed her out to me. We also saw Jeanette McDonald and Gene Raymond. Of course, Darlene wished Nelson Eddy had been there, because she always thought he was the best partner for Jeanette McDonald. At one banquet we were at the same table with Joe E. Brown. It was fun to visit with him.
May West was presented to everyone on the stage in an elaborate gown, which, incidentally, looked like a nightgown to me. As expected she finished her presentation with her famous words, "Come up and see me sometime!"
Mary Pickford came wobbling into the dining room. Iím not sure whether she was drunk or just had health problems. She made quite an impressive entrance, and it took two strong men to get her to her table.
When Bob Cummmings came in, he walked onto the little stage and looked all around as if to find his place. I got the feeling, however, he just wanted everyone to be sure to know he was there.
I wish I had kept a list of the famous people who attended the banquets. I know Darlene and I were quite impressed to be in the same room with some of them. Imagine two Kansas people stepping into such a situation!


Audio-Visual Services Job
The second school year, 1951, I changed jobs. I left Dr. Finnís education classes and took over the audio-visual services for the university. These services were a function of the Cinema Department. Herb Farmer, who had been doing that job, moved into the front cinema office.


Herb and I looking over a projector.
I must say a little more about Herb here. He had been handling all kinds of jobs, and was involved in many projects. It was time for him to have some help.
Herb, along with Bill Mehring, Dave Johnson and Dan Wiegand, were responsible for filming all of the Trojan football games for the athletic department. Herb also kept all the financial records for the entire Cinema Department. Working with other talented staff persons, Herb installed 16mm film developing and printing equipment. Thousands of feet of film were processed for staff and student projects.
Right after World War II, the department fell heir to all kinds of surplus photographic equipment for both still and motion pictures. Herb was a genius in gathering it all together and putting it to use. Sound was his forte. He was always improving the sound system in Bovard Auditorium where all the real important music and drama activities took place. I had the feeling that Herb figured out what sound amplification and reinforcement was needed, and then Dan, another genius in building and wiring things together, helped him get the job done.
As you can tell, Herb, was and still is, a very talented person. We have become good friends through the years, and I owe him much for the opportunities he gave both Darlene and me during our nineteen years at USC.
My new job in charge of the audiovisual services involved several operations. Anytime a projection setup was needed by one of the professors, it was my responsibility to take the orders and supply the student operators. Also, I took care of the film library, booking both our own films, and ordering films from outside sources that instructors requested.
Sometimes, in addition to my regular duties, Herb would find something else for me to do. One such example was Dr. Kroneís tape editing project. Dr. Max Krone was a professor in USCís Music Department. His pet extra-curricular project was the Idyllwild Institute of the Arts, which he had founded in 1947. Bob, his son, was a cinema student and he helped to produce a promotional film about the institute titled "Ballad of Idyllwild." Since it was a film about music, I had been especially interested in it.
"Glenn," Herb said one day, "Dr. Krone needs some help copying and editing some of his audiotapes. Can you help him?"
Of course, I agreed to do the job. The tapes were leftovers from the sound track of his film. For years I had been interested in any kind of recordings.
I had my first disc recorder in my Bethel College days. It was still working when I returned from the war and got married. We recorded the soloist at our wedding, and conversations with family and friends who came to visit. In fact, we still have the scratchy old discs, and have transferred them to cassettes.
At USC I had watched the development of all kinds of tape recordings, including, coated paper, steel wire, and, finally, Mylar tape. That wire was a mess to work with. When it got tangled, the only thing one could do was throw the entire roll away. Certainly, it was impossible to edit. Paper tape and Mylar tape, at least, could be cut and edited.
Our sound department engineers, Dan Wiegand and Ken Miura, thought Mylar tape was surely the "final" recording medium. This was even before the days of cassette tapes. Need I say more about all the other much-improved types of recordings we enjoy today?
Mylar tapes are still used today. The popular cassettes are certainly an improvement over the old reel to reel types. However, they donít last forever. I discovered that as I was playing my treasured family tapes and the coating began to peel.
Back to Dr. Kroneís editing job. He brought boxes containing scads of rolls of tape. He had recordings of student concerts at Idyllwild since the place was started. I could see this project would take hours of work, but I was sure I could do it.
Dr. Krone had all kinds of ideas about how those tapes should be cut and spliced together. Things got more and more complicated for me as I started to work on his pile of tapes.
I remembered that Mel Sloan, my cinema editing teacher, had shown us how to organize pieces of 16mm film. We used large cardboard boxes. In the center of one side of each box we attached an upright slat of wood. On top of that slat we put another slat at a right angle. On this slat, using nails, paperclips and/or scotch tape, we hung our pieces of film, some long and some short, letting them hang into the box below. As we identified a piece of film, we labeled it.
I used a similar procedure to organize the many pieces of audiotape, and soon they were all neatly hanging and labeled.
Terrific! But that wasn't enough. I couldn't hear the sound on my little strips of audiotape. The Revere tape recorder could accommodate only properly rolled and threaded quarter-inch tape! I had a new problem to solve. I had to hear what was on those pieces of Mylar tape.
I remembered my Bethel College days when my friend and professor, Bennie Bargen, always encouraged me to invent what I needed to do a job. I could just hear him telling me to get my imagination going, and solve this "sound" problem. By the time the day was over, I had made myself a stupid little device that would let me listen to the sound on those pieces of audiotape. Although it was a slow process, I soon was able to understand those crazy little noises on those tapes. Later on, that little device led me to invent the "McMurry Magnetic Sound Reader!" (More about that later)
I found myself spending hours on that tape job, and fatigue often set in. One day I picked up a valuable full-track music tape by mistake and copied a half-track tape on top of it. When I played it back, I heard, simultaneously, both the original track and the one I had just put on. What a mess!
I didnít know just how I could ever get out of that mess, so I just put the tape away and waited until the next day. That gave me a few hours to think about my problem.
How could I ever "fess" up to Dr. Krone I had ruined his precious sound track?
Well, I didnít ever confess to anyone, but I did figure out a fancy way to fix the tape. At least it sounded OK to me, and Iím sure neither Dr. Krone nor anyone else ever knew the difference. I copied a blank half-track to the side where I had put the wrong sound. With trembling hands I played that finished tape. Lo and behold, the copy of the original music was still there. Whew!


The Address-O-Graph
Now back to the story of my regular duties as audio-visual services director.
At that time, the secretaries laboriously typed the booking forms. It was a tedious and time-consuming job. While I was attending Bethel College, I had operated an Address-O-Graph machine. It had always fascinated me and I had acquired one before coming to California.
"Printing booking forms with the Address-O-Graph beats using a typewriter all to pieces, Herb. Iíd like to design a new multi-purpose booking form to use on my Address-O-Graph and one person can do the booking in half the time," I said.
"Go ahead, Glenn, get at it," Herb replied.
That started me on another line of work, that is, making the metal plates for use on the Address-O-Graph. First, I had to arrange the necessary data to fit on the plates, and, next, I had to find a place to emboss the plates.
I discovered that the campus-mailing department used an Address-O-Graph and had the necessary Graph-O-Type machine. At first the lady didnít want to let anyone else use her machine, and we paid her to make our plates.
Soon they said they didnít have time for all our demands. Since I wanted plates for all our film titles and all our customers, the job got bigger and bigger. Next, I had to convince the lady in charge at the mailing department that I knew how to use the Graph-O-Type, and that I wouldnít harm her machine. In fact, when I was in college, I had become quite expert at making the many, many plates we used there.
Finally, she gave me permission to use her machine, and I became a regular customer in the mailing department. We had to pay for the plates, but didnít have to pay anything for the use of the machine.
Before long, I had drawer after drawer of coded plates to use for booking and promoting the use of our films.

"The Face of Lincoln"
Dr. Merrill Gage, who had been the head of USCís Department of Sculpture for thirty years, had become well known for his lectures about and sculptures of Abraham Lincoln. His first work of note had been commissioned in 1917 to be placed at the Kansas state capitol in Topeka.
Through the years, Dr. Gage became an authority on Abraham Lincoln. During his lectures, he would start with a hunk of clay. Then as he told the story of Lincolnís life, he would turn the clay into a bust of Mr. Lincoln.
Fortunately, Bill Blume, a member of the cinema staff, had convinced the department to film Dr. Gageís Lincoln lecture. The film was called "The Face of Lincoln." It was a hit! In fact, it won an Academy Award in 1955 for the best two-reel short subject.

Because of that film, my distribution job in the film library grew into a much bigger job. We sold and rented hundreds of copies of that film to schools, libraries and civic organizations all over the United States. The United States Information Agency had it translated into many languages for distribution abroad.
We in the cinema department were grateful to Bill Blume and Dr. Gage for making our USC film library a profitable project. Furthermore, I felt privileged to get acquainted with Dr. Gage and have the opportunity to visit his studio in his home.
Although Dr. Gage already had a fine reputation as a sculptor and teacher at USC, his fame spread rapidly after the film "The Face of Lincoln" was made. His works of art and his lectures were even more in demand. One example of his work is a bronze bust of Lincoln which the Lincoln Savings and Loan Company commissioned him to make for the front of their building in Los Angeles.

The Robotyper Machine
I became very busy promoting the films in our library and caring for the audio-visual equipment on the USC campus. The Address-O-Graph was a big help, but the day I saw a brochure advertising a Robotyper, my promotion and distribution job was destined to grow even bigger.
I couldnít believe my eyes when I read the ad about what a Robotyper could do. Were they kidding? I rushed to the nearest phone.
"Where can I see one of those units work?"
"Come to my office. Itís just off Figueroa near 6th Street."
When I got to that office, I was stunned. I saw several typewriters, I should say "Robotypers," typing away without human hands on them. Here was a unique use for the old player piano mechanism. Under each keyboard was a group of steel rods that activated the keys. Attached were a vacuum pump and a plastic vacuum tube for each key, and the holder for the roll of paper. As the operator typed, holes were punched in the paper.
Absolutely amazing! Bennie Bargen, my Bethel College professor, would loved to have had a fleet of those units. Where in the world was I? Why hadnít I invented that outfit?
Just think, I could write a letter by punching holes in a roll of paper and then that roll could be used to type as many copies of that letter as I wanted. No more carbon copies, or typing the same message over and over with the possibilities of mistakes at each writing. Remember, this was before the computers we have today had even been imagined.
My mind was in a whirl by this time. I could just see myself operating one of those units. I could hardly wait to tell Herb about my discovery.
"Herb, look at this," I said when I got back to the department. "Itís a marvel!"
I showed him the brochure and explained to him how I could write personal letters ten times faster than by hand and they would be error free.
"That machine is exactly what we need to promote "The Face of Lincoln." It will stop long enough for the operator to insert any personal message or name one wants to add to a letter. When the letter is finished, the machine halts, I insert another blank piece of paper, type the new name, address, and salutation for the next letter, punch a button and, presto, it writes the same letter again."
Herb was excited! That Robotyper was in my office before the end of the week. I was getting all fired up for my next project, writing personalized letters to people all over the country.
I donít have any idea how many hundred letters I wrote promoting "The Face of Lincoln" and other titles in our film catalog. What I did know, it wasnít long until I had three of those machines in my office turning out all kinds of stuff. To get the readerís attention, I created many kinds of letters. Some were straight full-sized letters, informational in nature. Some were simply "crazy" ones. I inserted personal names in unexpected places. One of my tricks was to tell the reader his name was somewhere in the body of the letter. Orders for films began to come in faster and faster. Requests for information began to mount. I had to hire a secretary. The results were, in a salesmanís lingo, "Fantastic!"
Most of the comments about my "crazy" letters were favorable and seem to get us customers. However, I remember one personís response was that I shouldnít waste the universityís money on such junk. Oh, well, one can never please everybody.

Government Films
About the time I thought I was as busy as I could get, our department was offered hundreds of government films for just $1.00. For some reason the library that had been handling the films had decided to quit, and we were offered the contract. Both Herb and I decided it would be a great project for the Cinema Department. It would be good publicity for the university, and also might make us a little revenue.
The governmentís doctrine was that all government films were the taxpayersí property. Taxpayersí money had not only paid for the production of the films, but it also should pay the distribution costs to make them available to industrial groups and non-profit organizations, such as schools and churches. Each user was required to fill out a report card certifying that the film had been used, and we turned these in as proof of our services to the users. In turn, the government paid us a small fee for each title booked.
The project had its pluses and minuses. From the plus side, I had lots of films to add to our library and a chance for revenue, and from the negative side, those films were a mess. Many films had missing leaders and/or endings, and one never knew just how many breaks might be found on a given reel. In other words, many of the films were simply worn out.

My First Film Catalog
Herb called me into his office one day to offer me a new challenge.
"Glenn," Herb said, "how about making a new film catalog? You know the one we have is very much out-of-date. Also there are no more left. Something has to be done."
Of course, I was eager to take on a new challenging job. I was enjoying working for Herb, and I felt good that he would trust me with this new job. I felt it was a good chance to show what I could do with some of my ideas.
"Sure, Iíll get right at it!" I said, little knowing just what making that first film catalog would lead me into for the next years of my life.
I knew my first need was for an expert typist to help with my planned film catalog. I found just such a person when I met Maynard Smith in the cinema office one day. Maynard was an expert typist and spent much of his time writing theses and other papers for USC professors, teachers and students. He reminded me of Bennie Bargen, my professor at Bethel College, and of Harold H. Smith, who held the world record for typing in the Ď30ís.
I asked Maynard if he would be interested in preparing the data for my new film catalog. He said heíd be glad to work on the project, and wanted to know just when he could get started.
I wasnít quite sure that Maynard knew about my radical ideas for putting my data together. To me, my plan wasnít really radical, but it was a bit different from other catalogs I had seen. I wanted to put all the material in alphabetical order. The titles and the subject matter headings would be integrated into one alphabetical list, and not divided into two separate sections of the catalog.
When Herb was told about my conversation with Maynard, he was elated. He said he had funds to cover all the costs, the typed copy, and printing for several hundred copies. All I had to do was get all the raw data together, and have Maynard do the typing.
One of the well-known film catalogs around at that time was the "H. W. Wilson Film Guide." It wasn't a sale or rental catalog, but merely gave the source for free industrial and government films. I had used it often at Bethel College, for my road show business, and during my school teaching days. Also it had been a valuable reference source while I worked on my thesis at KU. Yes, I knew it well. From it I got some good ideas and also some ideas about what NOT to do in my new catalog.
Of course, at USC, we received catalogs, fliers and leaflets from many places. Putting together ideas from them, the "H. W. Wilson Film Guide," and my thoughts about the perfect catalog, I was ready to go to work.
I soon learned that gathering correct data on all the films was a very complicated job. I would find the title written several different ways for the same film. This necessitated looking at the film itself to determine the correct title. There were many other items needed for each film, such as, producer, year made, running time, whether silent or sound, a short synopsis, any needed series information, and the rental and sale prices, where appropriate.
My next problem was getting all the titles listed under the proper subject headings. This also turned out to be a bigger problem that I had expected. My list of subject headings began to grow longer and longer. As new requirements came along, I would constantly revise the list. In the first place, I had never had any training in library work. Figuring how to use "See," "Also see," and a series reference was a very complicated matter to me.
I decided there should be plenty of pictures in the catalog. Fortunately, over the years, the staff and students had taken many pictures during the production of their films. Finding pictures wasnít the problem. However, choosing the best ones to use was a frustrating task.
I engaged Don Figge, a graphic artist who did work for the Methodist Church, to take on that job. Don was a great man for the job.
There were several rules I decided to use in the listings. I wanted each USC production highlighted with a little picture of "Tommy Trojan" to the left of the title. Each film and each subject matter heading was to be in capital letters, making it stand out from the descriptive material. If the title began with "A", "And" or "The," those words would be at the end of the title, and the next word determined the alphabetical order of the entry.
Finally, my first catalog was finished, and copies were ready for distribution. I must admit that I was very pleased with that catalog. It was eight and one-half by eleven inches in size and had eighty-seven pages. The cover featured a picture of Dr. Merrill Gage sculpting a bust of Abraham Lincoln just as he had done in the film.

"The Face of Lincoln."
As I look on, Dr. Wagner, Head of the Cinema Department, presents a catalog to Dr. Gage.
Iím not sure just how many copies were made of the catalog. I know there were several thousand and I now had a big job getting them out to the public.

IBM Equipment Discovered
One day on my walk back to cinema from the dental clinic, I saw something that was destined to change my life. Across the street was the Business School Lab. As I looked into the open side door, I saw the students punching holes in 3" by 8" cards. Upon further investigation, I discovered that those cards could be sorted and printed.

I had discovered an early IBM "computer accounting" system. The cards were punched with a keypunch, arranged properly with a sorter, and put in a printer to get the final product.
I brought home a few of those little cards to study. Could they be used to replace my Address-O-Graph plates? I began to get all kinds of ideas!
I knew that showing an IBM card to Herb would excite him. He was always interested in new ideas. The Address-O-Graph had been a "good" idea, but this was a "great" idea!
Thanks to the Business School Lab, I was able to use their equipment to do some experimenting.
I soon learned that the IBM keypunch was much more than a mere typewriter that punched holes in cards. It was more like a desk with a lot of mechanical and electronic gear built into it. It had a hopper that held a handful of cards. When a button was pressed, a new card was shuffled into position. Every time a key on the keyboard was hit, a hole or holes were punched in the card.
Below the keypunch was a plastic box designed to catch the little pieces that were being punched out of the cards. These little pieces were called "chips," and now I had a new use for an old word. I had long known about cow chips and wood chips, and now I was producing punch card chips. All three kinds of chips have one thing in common. They are all waste material, and must be disposed of properly.
Each of those chips had a number on it, perfectly positioned in the middle. Depending upon the work being done, an average of 150 was produced for each card punched. In any event they were all identified with a number on them, one through nine.
Any time we forgot to check that little box and it got too full, we had a real mess. Chips rolled out of the box and piled up on the floor.
One day when we had a pile of chips on the floor I had a sordid thought. I was reminded of my grade school field trip to the Kansas State Reformatory where we were shown one form of punishment for unruly prisoners. They had to break a pile of rocks into small chips, enough to fill a wheelbarrow. Instead of using rocks, why not use keypunch chips! Thatís it! Make those unruly prisoners sort keypunch chips by number. Arranging a gallon can of chips should be just about right for a dayís punishment. What a gruesome idea!
Punching the holes was simple, but first one had to organize the 80-space card to include the key fields needed. Soon I discovered how to prepare a program drum card that would let me do repetitive operations.
One of the disadvantages to our new system was the lack of lower case letters. All printing was in capitals. Another handicap was the limit of 80 spaces on each card. We soon learned to get around that problem by properly coding cards, and using a sorter.
That sorter was another fascinating machine to me. It was noisy, but it did the job! Just load in the cards and position the pointer on the field to be sorted. If there was more than one letter in a field, start with the last letter, remove the cards, place the pointer over the next field, load the cards again, and punch the run button again. Do the procedure often enough to get your cards in the desired order.
Naturally, the next step was to learn to print the punched cards. "To print those cards, you have to wire a control board for the 407," the IBM instructor informed me. Then he handed me some wires and processed to instruct me how to use them.
So far I had gotten along fine learning the keypunch and sorter, but that control board for the 407 was something else. It was about eight or nine inches square. To make it print my cards properly, I had to put those little wires in the right holes. The printer had to recognize the proper instructions connected with each of the 80 columns in the cards. Frankly, I was afraid I wasnít going to figure out how to wire that board.
The IBM 407 worked like a charm when wired right. There was a printing bar for each number, each symbol and each letter of the alphabet. All "Aís" were positioned first, then the "Bís", then the "Cís" and so on. When all the characters for a given line were in position, the entire line was printed at the same time.
If a card would jam, it was a mess. After I had removed the damaged card, Iíd have to punch it again and place it in the proper sequence in the deck. I was always on pins and needles as my cards went through, hoping against hope that none would jam.
I was able to do things that I never even dreamed of doing. I made lists of everything, developed inventory cards for the film titles, and made film can and rack position labels.
Continuous postcards to advertise meeting notices and film title releases became a fun project. Then I began using double continuous postcards. I could print a message on the first card and a return form on the second. Then I would turn the cards over and run them through again. This time I would print the outgoing address on the first card and our address on the second. All I had to do then was rip the cards apart and fold them. Oh, yes, I also printed the nonprofit mailing privilege stamp on the cards. That meant no more stamp licking.
I had so many cards to mail that I began to worry about paying the postage bill.
"Donít worry," Herb said. "Keep up the good work, weíll get the money."
Very soon we has our own keypunch and sorter, but we continued to use the 407 at the Business School Lab. Herb was sold on the equipment and started using IBM cards for his projects. A primary use was keeping tract of all the data connected with student film productions. .

IBM Services
As I was learning about the IBM equipment, I received lots of help from IBM representatives. To me they were the smartest guys around. In those days all the IBM reps were young men who wore white shirts, ties and well-pressed suits. I was always asking questions, and they always had answers.
"Would you like to enroll in one of our free classes?" one asked me one day. I guess he thought that if I took some classes I wouldn't bother him so much.
"Would I?" I said. "You bet I would."
Over the years, I donít remember how many IBM classes I attended. I not only attended the classes in their downtown offices, but also both Darlene and I took their self-teaching courses in the Autocoder computer language. When we completed a book, we took an exam and then were given a "graduation" certificate. I believe there were two workbooks in the course. After that we spent many hours writing programs to make our punch cards do what we wanted them to do. Of course, by then we were finished with the 407 and were using the "new" 1401 equipment in the business school. These machines filled a whole room and used huge reels of tape. How magical they were to us!
I was thrilled to be invited to IBM's prodigious school for executives in Sunnyvale, California. I was also surprised. I certainly didnít have the same background as their other attendees, such as top corporation executives and bank presidents. Nevertheless, I wasted no time in accepting the invitation.
"Great, Iíll get the paperwork started and the office will notify you when the classes begin. I'm sure you will enjoy your week. Do you play golf?"
I had to admit I knew very little about golf, but, of course, I'd be glad to learn. Frankly, I didnít care one thing about playing golf. Hutchinson had a golf course, but only the most rich and influential could afford golf in those days. It always seemed to me quite a waste of time to walk around for hours hitting and chasing after a little white ball. I really had never seen a game played except at a distance, as we would drive through the park near the gold course. The closest I came to golf as a kid was banging a tin can with a wooden club.
I had a great time and learned lots at that school. I didn't get to be much of a golf player, however. We were treated royally and came away, just as they had hoped we would, with very favorable impressions of the IBM computer systems.
Naturally, we weren't told about any other company's computer developments. I do remember that RCA was also making computer equipment. I believe they had some type of punch card system using cards punched with round, instead of rectangular, holes. I never did really learn much about their system.

The Film Library
Soon the demands of running both the film library and the audio-visual services were too much for my assistant, George Wehbi, and me to handle. The department decided to divide the two operations. I became Director of Film Distribution, and the responsibility for the audiovisual services was given to Russ McGregor. Two houses near the Cinema building were rented for the two separate operations.
After awhile we were willing to have another company take over the government films. I already had a new idea. Educational films were "big" business those days. More and more film producers began to appear on the scene, promoting their films to the schools. Every school system of any size had its audiovisual department and audiovisual conventions were held periodically. It was at one of these that I approached Steve Sicard, the McGraw-Hill Film Company representative, with my new idea.
"Steve, how about depositing a number of your McGraw-Hill preview prints in our USC library? We can announce their availability to our educational customers throughout the country. We would charge you a small service fee, say two dollars, for each preview we booked. Both the University and McGraw-Hill should benefit from such an arrangement."
Steve thought it was a great idea and on the flight home from the convention we made our deal.
Soon I had contacted other producers and my library of films kept getting bigger and bigger. For a USC news release about our computerized film library distribution system, click here.

US Department of Education Grant
The next step in computerization was to go to the new IBM 1400 series being used by the Business School. With this equipment the data was put on large rolls of magnetic tape. The main frame computer, card reader, the tape drives, the printer and necessary worktables filled a good-sized basement room. The room had to be air-conditioned or the equipment wouldn't work properly.

Main frame computer

The operator is showing Chuck Vento and me how the big tape drives work
When I discovered this new IBM equipment, I was excited. Of course, at first it could only handle 8k characters. When the capacity was increased to 16k, we really thought we had something! Think of the millions of ? that can be put in our small personal computers today!
I got acquainted with the Business School personnel, and begin asking about the possibility of using their machines for my work. They were very agreeable. Now I had to get an IBM guy to coach me on just how to program the 1401.
As we began using the Business School equipment across campus more often, that walk carrying boxes of cards and printouts became more and more tiresome. Finally, I persuaded Herb to try to make arrangements for a golf cart for our use. As usual Herb got the job done!
At the county audiovisual meetings I was asked to explain and demonstrate just what we were doing at the USC library. With the encouragement of my audiovisual friends, especially Dr. Robert Gerletti, head of the Los Angeles County Audiovisual Department, I began to get another idea. Again, little did I know just how this new idea would affect my future.
My new idea was this: Why not get all the films made by the educational film producers into my system? We would ask them to send their catalogs and materials on all their new releases, and we would input them. Then we could make film catalogs for any school that would send the list of films they owned. All we had to do was match each of their titles with the one in our files, code that title, and then print a catalog for their school. If they owned a title we didn't have, we would simply add that title to our file.
Of course, this sounded simple at first. However, lots more was involved. The schools wanted to include their other types of audiovisual materials, such as filmstrips and slides, and they didn't all agree on subject matter headings.
Nevertheless, the idea snowballed and with the help of the Los Angeles County Audiovisual Association, a proposal was made to the US Department of Education. Lo and behold, USC was given a grant of $112,586 to study the feasibility of my cataloging idea. For details of the grant, click here.
When that grant money came, in addition to Chuck Vento, the research associate; Bertha Landers, the editor; and George Wehbi, who took over the day-by-day operations of USC's film library, we hired a computer programmer, and several keypunch operators. Darlene, who had been working part-time with me for several years, began working full time.
I should say a few words of appreciation for the help Chuck Vento was to the whole catalog operation. He desreves lots of credit for its success. He and I spent many hours together planning and working out the "bugs" that are inevitable when one is experimenting with new ideas. Incidentally, Chuck's work on the cataloging project helped him earn his docorate.
As the demand for catalogs increased we needed more room, more keypunches, and more operators. A house across the street was rented. During the course of the two-year grant we produced catalogs for many schools.

NICEM
Toward the close of the two-year US Office of Education grant, our operation came to the attention of the people at the McGraw Hill Book Company. They got the idea that all this material we had in our system should be published in a book. Jeff Norton was the person who first contacted me to discuss their idea. He called one day and said all the arrangements were made for me to come to McGraw Hill's New York office.
I was pleasantly surprised when I met Jeff and the other McGraw Hill executives. They were very friendly and not at all the dignified, all-business type men I was expecting. Before our project closed, Jeff and I became more like friends than just business associates.
After I had met a number of the top executives, Jeff took me to his office. It was far from an orderly place, and I was reminded of the theory: the more cluttered the office, the more important the person's job and the more work gets done.
Although most of the formal agreements had already been worked out for the partnership between our cataloging operation and McGraw Hill Book Company, the deal as yet had no name.
"The next thing on the agenda, Glenn, is to give a name to this project. Any ideas?" Jeff asked me.
I had to admit I had none. That was something I hadn't even thought about.
I could see that Jeff had already been giving it some thought. "What about 'National Information Center for Education Media' or the acronym 'NICEM?' What's more, 'NICEM' can be pronounced 'NI-CEM,' using a long 'I'."
I was stunned! What a terrific idea! But Jeff wasn't finished.
"We can call the first book 'Index to 16mm Educational Films' and the second 'Index to 35mm Filmstrips.' How about that?"
What could I say? Soon we had a four-year grant and NICEM was on its way. For details of the grant click here.

As Jeff looks on, Al Rosenberg presents me with the check from McGraw-Hill that initiated NICEM.
The first book was published in1967. It had 955 pages and was titled "Index to 16mm Educational Films." Next came "Index to 35mm Educational Filmstrips" just as Jeff and I had planned.

When the McGraw-Hill agreement was over, the University began to take note of what had been happening, and the powers at the business office decided USC should sponsor NICEM. Before we quite knew what was happening, NICEM was no longer under the Cinema Department. Tom Risner was hired to run the operation and I became a consultant. Also, it was decided that Darlene, being my wife, could no longer work on the project.

Although I felt pushed out of my own "invention," the whole thing was a blessing in disguise. The United States Government decided it was time to establish a National AudioVisual Center to handle all audiovisual materials made by government agencies. Jim Gibson was the person who was hired to head the new organization that came to be known as NAC. I had met him several times at audiovisual conventions, and he had approached me about coming to work with him. At first I had declined because I wanted to finish my NICEM project. With all the changes that took place when NICEM was taken away from our Cinema Department, I decided it was now time for me to accept Jim's offer. When I contacted him, he assured me that he still wanted me to come.

During the course of our two-year Department of Education Grant, the United States Information Agency, became aware of our work at USC. They decided they needed a computer system like ours for all the films they distributed around the world. Herb Farmer went to work negotiating a contract with them and Darlene was put in charge of the project. When it came time for me to decide about moving to Washington, Herb said that he would make arrangements with the University of Maryland for Darlene to do her work there.

Darlene at work on the keypunch
As I said earlier, the day I first saw that keypunch making holes in those cards was destined to be the first day of many adventures to come. Soon we would be on our way to Washington, DC, and our days at USC would be over.

Even though I was kept very busy with my University Cinema Department duties, I always had several other projects going. Also the university sent me to many audiovisual conventions, and gave me the opportunity to go abroad to Germany, France and Japan. To read about any of my trips or any of my projects outside the University, click on any one listed below.
FAMILY FUN TIME IN THE LOS ANGELES AREA
I didnít have to go to work or school for a couple weeks after our arrival in Los Angeles. We made good use of the time to get oriented to the whole LA area. Even after school started, we still went exploring over weekends. We really got acquainted with the place. Luckily, gas was cheap then.
The Pacific Ocean was always, and still is, too cold for me. The California coastal water was nothing like the warm South Pacific Ocean water. Even the California sun couldnít get it warm enough for me. Glenda and Jean loved to go wading, but we always watched carefully for those unexpected waves that would come to knock them down. Although I went swimming occasionally, Darlene and I were usually satisfied to walk on the sand or just walk into the water far enough to wet our feet.
But that beach! What beautiful sand! Miles and miles of it. Each day it would have been cleaned. There were places where cement rings had been prepared to build picnic fires. We took advantage of that area many times. Sometimes, I could pick up some good firewood from an abandoned spot and use it to start my new fire. The kids always enjoyed wieners. Darlene always brought along the other essentials to make a great picnic.
Not long after we arrived in Los Angeles, someone told us we must go to the beach to the "grunion run." They said the little fish suddenly swarmed upon the beach for a few minutes and then just as suddenly left. While they were there one could just reach down and pick up handfuls of them. Now this sounded to us like telling someone to go to the hardware store and get a "lumber stretcher." Of course, that was a joke to make the listener try to find such a tool and then feel like a fool. However, we did go to the "grunion run" and found all we had been told was true. These strange fish with strange habits are real! Many people gather to see the phenomena each year.
Long Beach and Venice had interesting amusement parks when we first came to California. Through the years these had come and gone, and still today they are working on various places along the beach, tearing down and rebuilding.
After we bought our small trailer, we would spend vacation time on California beaches. I am reminded of the time we were parked at San Clemente and the ants invaded us.
Ants certainly have an efficient communication system. If one finds you, millions follow! With the trailer unhitched from the car, I reasoned that there were only three places where ants could enter it, the hitch and the two tires. I figured that it was practically impossible for an ant to climb a tire, find the axle and fender and weave around under the trailer to locate a crack to get inside.
I spent most if my time on the hitch. After all, that was the obvious place for them to get into the trailer, I thought! I had forgotten that I had constructed a little bamboo shade to keep us cool, and that those tent stakes might provide an ant's entry point up the bamboo where it touched the trailer. After I thought that I had covered all the logical ways that an ant lookout could locate and blast the signal to the rest of the ants in the area, I felt very comfortable, but no! It wasn't long until there were again ants all over the inside of the trailer. Did some lookout smell something, hear something or plain see something?
We began to ask other campers for solutions and one introduced us to Grants Ant Stakes. We found them at the nearby grocery and they did the trick. Incidentally, we still use them when the ant season comes around.
From the time that we arrived in the LA area, we spent our spare time enjoying the many interesting places, such as, Exposition Park, with its beautiful rose garden and elaborate and well-arranged museums; Elysian Park with its little lake and boat rentals; Griffith Park with its carousel, animal zoo, miniature train and horse trails; and Knott's Berry Farm, noted for its boysenberry jams, chicken dinners, and its pioneer exhibits. Incidentally, at that time, admission was free to Knott's, and one paid a small fare for the various rides. This was long before elaborate theme parks, such as Disneyland, with their expensive admission prices.
Soon after our arrival in the summer of 1950, we discovered the Pasadena Freeway. Oh, boy! It was just great. Imagine driving from Los Angeles to Pasadena without a stop. Later, we learned that it was the first one in the area, the mother of all freeways. It was fun to count all the underpasses as we drove that freeway. Weíd never seen anything like it!
Angelís Flight Railway was lot of fun for all of us. At that time it cost a nickel to go up and a nickel to go down. That short railroad was useful for workers in that part of town who had to climb the hill to get to work each day. Later the Angel's Flight was retired, but recently, with much fanfare, it was again made operable. .
Cliftonís Cafe in downtown LA was one of our favorite places to eat. It had a South Pacific motif and in one part of the dining area was a rain hut. If one ate there, he could hear the rain falling periodically and running off the roof into a trough that went all along one side of the restaurant. In the center of the restaurant was a stage with an organ. The organist would play the customers' requested old-time tunes. After dinner, we could go down into the basement. There was a room decorated like one might have seen in Bible times. There was another room to represent the garden of Gethsemane with a beautiful white statue of Jesus knelling in prayer. When we returned to California in 1980, we were sorry to learn that Clifton's had been demolished.
We discovered Forest Lawn Cemetery in Glendale with its many works of art. The one outstanding place to visit at that time was the "Last Supper" picture done in stained glass. Through the years, many other attractions have been added at Glendale, and other Forest Lawn Cemeteries have been established in other locations. At each place, the builders have made the cemetery a place for the living as well as the dead with unique churches, statues, mosaics, and beautiful well-kept grounds.
When we heard about the church constructed entirely of glass in Palos Verdes, of course, we had to visit it. It became another place to take any and all visitors.
In those early days in LA, we took the red electric streetcars all the way to the Hollywood Bowl. One outstanding performance we saw was a pageant. I believe it was called "The California Story." There were hundreds of performers, real wagons pulled by oxen, and many horses in the various scenes of the pageant. All this along with the lighting and the sound system made an evening's entertainment unlike anything we had ever seen or even imagined before.
Another site in Los Angeles that we visited, and then became a place we always took our visitors, was the LaBrea Tar Pits. Here is where skeletons of prehistoric animals have been pulled from the tar and put on display in the adjoining museum.
In the first few months after we arrived in California, we had really gotten acquainted with many of the sights of the Los Angeles area. However, when Christmas drew near and we began to visit all the nearby attractions, the other things paled in comparison. The windows in the downtown stores were filled with scenes that defied description. Through the years we had always enjoyed the store windows in Hutchinson's two largest stores, and I don't want to down play them in any way. However, I have to admit they were not very impressive when compared with those in LA. The big stores downtown and those in the Crenshaw District seemed to try to outdo each other.
There were two fabulous light displays near the USC campus. One was the trees in Exposition Park, which were covered with lights. Just to drive down between those rows of tall trees ablaze with lights was a wonderful experience. The other site just a few blocks away was the American Automobile Association building. The trees and bushes all around it must have had millions of lights on them.
Christmas Tree Lane in Altadena was another place we always enjoyed. The cedar trees along this mile or so long street were covered with lights. No matter what night you went to enjoy those lights, you encountered a solid line of cars, driving slowly along the "Lane."
I must also mention the Hollywood Christmas Parade, and the New Year's Day Rose Bowl Parade in Pasadena. Then there was the Los Angeles County Fair! For years we had attended the Kansas State Fair in Hutchinson, and thought it was great, but when we got near the parking lot of the LA County Fair and saw those myriad cars, we were awestruck. As we tried to take in that fair in one day, we were overwhelmed. Our Kansas State Fair now seemed very small to us.
We always wrote home about all the things we were enjoying around Los Angeles, and told our relatives and friends they had to come to see us. Through the years many came and we spent lots of days trying to show them all the things that had impressed us. We knew our relatives felt bad about our decision to stay in California, but we told them they should be glad. Otherwise, they probably never would have come West and enjoyed seeing more of the United States.

CHURCH LIFE
Of course, the first Sunday we were in LA, we looked for a Methodist Church that was close. We didn't have to look far. Since the Methodist Church founded the University of Southern California, it was not surprising to find a Methodist Church on the original campus. About the time we arrived, however, a transition was taking place that would make it a private school, independent from of the Methodist Church. On top of Bovard Hall, along with several other statues, is one of a Methodist Bishop. I'm sure not many people know it is there, but, nevertheless, it is still a reminder of the place of the Methodist Church in higher education. In fact, in the early history of our country nearly all, maybe all, colleges, and also hospitals, were founded by the churches of our land.
Immediately, we moved our church membership to University Church. It is our belief that one should always move his church membership to his place of worship. Very soon, we joined in the various church activities. Of course, all of us, including our little girls, Jean and Glenda, became members of the Sunday School classes.
One of the blessings that came to us at University Church was meeting Bob and Virginia Unruhe, who were newly weds at the time. They have been life-long friends as both of our families moved to Culver City and attended church together there.
The Rev. Wendell Miller baptized our new baby, Gregory LaMont, at University Methodist Church on Easter Sunday, April 13, 1952. Since my Mom and Dad had come to be with us when Greg was born, they were there for the baptism. Incidentally, the first time my folks visited us in Los Angeles and attended church with us they had a big surprise. The visitation minister was the one who had married them in Elmer, Kansas, back in 1911.
Soon after Greg was born, our trailer living came to an end, and we moved into a duplex in Culver City. In Culver City we found and became members of the Maynard Memorial Methodist Church. On our first Sunday there, as we were greeting the Rev. Hilka Green and his wife at the close of the service, Darlene had a surprise.
"Barbara?" she asked as she shook hands with the pastor's wife.
"Darlene?" was the return greeting.
Sure enough. They had known each other when Darlene was in high school. Barbara's father had been the District Superintendent of the Hutchinson District Methodist Churches, and she had been active in the various youth activities. She and Hilka had also answered the "Go, West" call.
Since coming to California, I had been so involved with cinema that my music had taken second place in my life. At Maynard, I soon found opportunities to play the piano and sing in the choir. Occasionally I'd be asked to play the organ when the regular organist was absent. Actually, I wasn't much of a organist. The foot pedals of an organ always gave me problems. Even lessons at Bethel and KU didn't help much. Although I loved attempting to play the organ, I was really a pianist and I knew it.
The music activity for which I was really getting "hungry" was directing a choir. I had enjoyed substituting for a few weeks back at University Church before they hired a new director. This had brought back all the good times I had in college as the student choir director, and at Jetmore where I had good choirs at both the high school and my church. When Maynard's choir director moved, I immediately volunteered. I loved that Maynard choir, and the members were very responsive to my style of directing. We were lucky to have a very fine organist, Norman Plummer. We also had two outstanding vocalists, the organist's wife, Phyllis, and the minister's wife, Flo Conrad. We were able to present some fine programs, such as the oratorio "The Seven Last Words of Christ."



For several years my choir directing was a volunteer job. However, the finance committee began to worry what would happen if and when there were no members of the church willing and able to handle the music responsibilities. They decided to start paying both the organist and choir director. For the last seven years before we moved East, I was the paid choir director.

Darlene always sang in the choir and later our children also joined. When the youth gave a musical at church, we discovered just what a fine singing voice Greg had. Of course, besides become singers, Jean became an accomplished pianist, Glenda a fine flute player, and Greg played his trumpet and even organized a band at school. Music truly has always played a big part in our family life.

At Maynard Church the women had an active Woman's Society of Christian Service and Darlene was always involved with it. Bob Unruhe and I decided that the men needed to have a fellowship of some type. We started a men's breakfast group. When we moved back to Culver City, although, there was now a new United Methodist Church with a different location and a different name, the Methodist Men were still meeting for breakfast once a week. Now many of them meet twice a week. At first, we all cooked our own breakfasts at the church, but now we take the easy way and go to a restaurant.

I have put the discussion of our church life last, not because it was least important, but rather to place emphasis on that part of my life as separate from all the other activities I've discussed. Our church homes where we can worship God and be of service to others through the church activities have always been "essentials" in our family. This has been true for me since my childhood when my parents first showed me by example the importance of the great commandment that Jesus gave us: "Love the Lord your God with all your heart, soul and mind, and love your neighbor as you love yourself."


GOODBYE, CALIFORNIA

For nineteen years we had enjoyed living in Los Angeles and Culver City. Then I said, "Yes, Jim, I'll join your staff at the National Audiovisual Center." That meant time to pack and head East to a new adventure in Washington, DC, and Maryland. Little did I know what was ahead, but I was excited about a new challenge, and knew no matter where we went, we'd make a real home and enjoy living there.