My Family History
Chapter 1 Section C
from
by Glenn D. McMurry
---
MY FAMILY

My Parents' Wedding Picture
My Parents
I have already explained that the Deal's moved to Elmer when Grandpa discovered a saloon in the little town where they lived. It was natural that they would attend the Elmer Methodist Episcopal Church about one-half mile from their new farm. This was the same church to which the McMurry family belonged. The church was not only the place for Sunday worship, but also the social center for all the families from miles around. It wasn't long before Bonnie Deal discovered that nice, handsome, soft-spoken Freddie McMurry. Mom was a strong-willed person like her father, and she soon made up her mind that Freddie was the man for her.
Although I don't know too many details of their romance, I'm sure Dad must have been attracted to that pretty Deal girl at about the same time Mom noticed him. At any rate they courted and were married, November 1, 1904, in Mom's home.
Newspaper Clipping about the Wedding:
McMurry--Deal Wedding

Charming in all its appointments was the wedding, Wednesday evening of Miss Bonnie Deal, the oldest daughter of Mr. and Mrs. J. M. Deal, and Mr. Fred McMurry, the only son of Mr. and Mrs. W. E. McMurry, which was solemnized at 8 o'clock at the Deal family home in Elmer.

The rooms were prettily decorated; and the ceremony was performed in the bay window, and which was banked with palms and ferns. The Rev. Mr. Kraft, of the M. E. church performed the ceremony, using the ring service.

The bridal gown was a lovely one of tan silk, trimmed in rich white lace. A diamond ring, the groom's gift, was her only piece jewelry. Her arm bouquet was of white roses.

Later in the evening, the bouquet was thrown to the bride's girl friends and caught by Miss Florence McMurry. When the wedding cake was cut, the ring fell to Miss Nova Eales, the thimble to Mr. Luther Stewart and the dime to Mr. Vance Fox.

Those present were, Mrs. Nelle Rob, of Minn., aunt of the Bride; Mrs. Lou. Johnston, Mr. and Mrs. Chas. Bates, Mr. and Mrs. James Moore, and Mr. Vernon Peachey, of Hutchinson; Mr. and Mrs. W. E. McMurry and family, Mr. and Mrs. Charles McMurry and family, Grandma Myers, Mr. and Mrs. A. Hendershot, Mr. and Mrs. Harry Wainner, Mr. and Mrs. T. H. Rinehart, Mr. and Mrs. David Shaw, Mr. and Mrs. Harry Lyman, Mr. and Mrs. Fred Robertson, Mr. and Mrs. Ott McNew, Mr. and Mrs. H. J. Rexwood, Mr. and Mrs. Robert Freeman, Mr. and Mrs. Holmes Rinehart, Misses Mollie and Dica Stewart, Edna Freeman, Nort Eales, Gusta Rinehart, Idell Wilson, Bertha Peachey, Florence and Myrtle McMurry; Messrs. Vance Fox, Milas McMurry, Will and Luther Stewart, Dewith Peachey, Ray Rinehart and Mr. Newman, of Winfield.

Late in the evening a dainty three course supper was served. Many beautiful and valuable presents were received.

Mr. and Fred McMurry will be at home to their many friends after November 10 on the McMurry farm.
One of the worst blizzards recorded in years happened on their wedding day! Buggies and wagons couldn't get to the wedding, but those who had sleds and riding horses made it. Mom would reminisce about that blizzard on nearly every wedding anniversary. They were able to celebrate 55 anniversaries together.


50th Wedding Anniversary Celebration
Mom and Dad (front row in the middle) with Friends and Relatives
Mom and Dad took over the old McMurry farm after Dad's folks moved to town. My brother Junior, my sister Helen, and I were all born in the same house where my Dad had been born. There we lived until our forced move to Western Kansas, which I will discuss later in my story.


Junior, Helen and I on our Swing
under the Mulberry Tree in the Front Yard
My Dad
My Dad, Frederick Earl, Sr., (Senior because my older brother was given the same name) was born July 11, 1887, in the same house where I was born, and probably in the same bedroom. Dad was a farmer for his entire life. Like his father, William Eli, he was about six feet tall and strong. A man had to be strong and healthy to operate a farm in those days. Dad was no exception. In spite of the rigors of farm life, he lived to be nearly eighty.
Dad was the second of three children. He had an older sister, Florence, and a younger one, Myrtle. More about them elsewhere in this saga.
Of course, I don't know little or nothing about my Dad's childhood. However, in things he had saved since his school days, was this poem with a notation that he recited it in grade school. It must have had a special meaning to my Dad, and may have had a small part in making him such a gentle, quiet, peacemaker in his adult years.



My Lesson
I used to kill birds in my boyhood,
Blackbirds, and robins, and wrens.
I hunted them up on the hillsides,
I hunted them down in glens.
I never thought it was sinful
I did it only for fun
And I had rare sport in the forest
With the poor little birds and my gun.

But one clear day in the springtime
I spied a brown bird in a tree
Merrily singing and chirping,
As happy as a bird could be,
And raising my gun in a twinkling,
I fired but my aim was too true,
For a moment the little thing fluttered,
Then off to the bushes it flew.

I followed it quickly and softly,
And there to my sorrow I found,
Right close to its nest full of young ones
The little bird dead on the ground!
Poor birdies! For food they were calling,
But now they could never be fed,
For the kind mother bird who had
Loved them, was lying there bleeding and dead.

I picked up the bird in my anguish,
I stroked the wee motherly thing
That could never more feed its dear young ones,
Nor dart through the air on swift wings.
And I made a firm vow in that moment
When my heart with such sorrow was stirred
That never again in my life time
Would I shoot a poor innocent bird!
Dad was a dedicated Christian and a faithful member of the Elmer Methodist Church. He was a thoughtful man and scrupulously honest. His Christian background made him a very moral person. Everyone who knew him respected him.

Dad's Baptismal Certificate, October 9, 1887
Like his father, who was a schoolteacher and organizer of singing groups around the area, Dad loved music. He had a nice tenor voice and people liked to hear him sing. He taught himself to read musical notation. I remember his explaining to me the square note and round note system for reading music.
Before we had a piano at home, Dad would finger the ivory piano keys at the church to learn a new hymn. Apparently, they had a pump organ at the church that antedated the piano, because I remember seeing it downstairs shoved into a corner and covered with junk. Playing "at" that old organ was fun even though it was worn out long before I learned to play the simplest tunes on the piano.
For many years, Dad sang in the church choir. He also took his turn at leading the congregational singing and serving as the Sunday School superintendent.
He was a member of the Elmer Church quartet. I well remember that quartet. It consisted of three other farmers in the church: Fred Robertson, bass; Ott McNew, top tenor; Val Wainner, baritone; and then Dad, the second tenor. They sang at church functions and many funerals.
Dad had an old violin handed down from his father and he did his best to play it. When we kids began to play the piano, he would get out that old fiddle, tune it, and play hymns and ditties with us.
The harmonica and Jew's harp were fun musical instruments those days and Dad tried his hand at them, too. He also showed me how to play tunes on a regular carpenter's saw, and he did quite well at it.
Yes, Dad loved music and taught us kids to love it, too!
Dad always had two watches, an everyday one and Sunday or "dress- up" one. His first everyday watch that I remember was a large, heavy Elgin. It was difficult to set. The back of the watch had to be removed in order that a little lever could be slid out with the fingernail or a knife to operate the setting mechanism. It was interesting to watch Dad do it, but I think he got tired messing with it. Anyway, later on he got another Elgin that was thinner and easier to set.
There was a definite routine for taking care of the everyday Elgin. He carried it in his overalls, which had a watch and pencil pocket. He didn't have a chain for the watch. He used a shoestring. In that manner he could be confident that the watch would be attached securely. Each night before Dad went upstairs to bed, he would hang his watch on a special nail at the top of the right door jam, out of reach of us kids.
When Mom left the old house for a senior citizen apartment, I made certain that the nail was removed along with other household items. It is now stored along with Dad's watch among my memorabilia. The nail is covered with layer upon layer of paint. It is possible that my grandpa McMurry put that nail there for the same reason--to hang up his watch. Grandma McMurry was a very fastidious person so she probably saw that the room was painted frequently.
Dad's "dress up" watch was a Waltham, and he was very proud of it. It was a vest pocket type with a hinged lid. He took good care of it, placing it on top of the dresser in the upstairs bedroom when he wasn't wearing it. I can well remember how Dad would do this job. With his right hand on the watch, he would open the lid. Next he would clasp the end of the chain with his left hand, and cock his eye to survey the spot where he would place the watch. Then, he would carefully lay the watch on the dresser with its chain laid straight away from the stem. Sometimes he would swirl the chain making a neat design.
The kerosene lamp that he or Mom would carry upstairs at night would be carefully placed on the dresser, close to the watch so when he got up in the night or early in the morning he could see the time when he lit the lamp.
I don't remember any harsh words my Dad ever said to me. However, I felt the effects of a couple spankings I got. They were the results of my own stupidity as a little boy. One example had to do with Dad's "dress up" watch.
I explored all the rooms upstairs, every chance I got. There were always so many interesting things to see. I had to go there quietly to keep Mom from hearing me. Chances are, she wouldn't have allowed me to be there. As a matter of fact, the folks usually kept the door to the upstairs latched. The latch was "away up high" and I couldn't open it, even using a chair.
One Sunday afternoon, I was upstairs in the north bedroom investigating the contents of the room. There was always something to explore, especially two closets that had lots of things Mom and Dad had collected over the years.
On the north wall was the dresser where Dad had placed his "dress up" Waltham watch when he came home from church. I was small, but by standing on tiptoe, I could see the top of the dresser. There was Dad's watch with the opened lid. It was so nice and shiny; I felt I must touch it. I picked it up and held it to my ear, listening to it tick. Tick, tick... It was such a sharp, clear sound.
Next I studied the face of the watch. The big and small hands were black with pointed ends. The face was pure white with the Roman numerals around its edge. Then at the bottom was the second hand running around. How exciting!
That lid fascinated me. It was open. Why not close it? No, why not take that chain and wind it around onto the crystal and then close the lid? That would be an interesting thing to do. I did so! Crack! I opened the lid quickly, and found the glass crystal broken into little slivers!
I thought about the situation a little, just a little. Then I realized I must do something to cover myself. I mustn't be found near the watch. I thought I knew just what to do! Carefully put the watch back just where I first found it, open the lid and put that little silver chain in its position. I thought the first thing Dad would see when he came to bed would be that nice little chain. Sure, he would never even see the broken glass! Fine. I did just that and ran downstairs to face the rest of the day. Of course, I felt a little guilty, but I tried to forget the situation entirely.
Everything went along very well until at night when Dad and Mom went upstairs to retire. Then, "Glenn! Come here immediately!"
That was the first spanking I got, and as you might guess, I still remember it vividly! Dad had a firm hand and he used it on my bare butt. Wow! I never bothered my Dad's watch again.
Another spanking I remember involved my sister, Helen. Really it was more than a spanking, it was a switching!
Actually, to me it wasn't such a terrible thing that I did. I had been playing with my sister, and I accidentally hit her. Well, I guess it wasn't really accidental. I have to admit I really planned to hit her. She made me mad about something and I thought she had it coming to her. Yes, she cried a little and went to the kitchen and told Mom about it.
The reaction from Mom was immediate! "Glenn. Come here this minute!"
I did my best to explain that I only hit her a little bit and I was just playing, but that wasn't a sufficient explanation.
"You are not ever to hit your sister! Just wait until your Dad comes in from the field, and he will take care of you."
It wouldn't have been so bad, but I had to wait for the entire day, until after the cows were milked and supper was over. Dad was patient, I thought. I even thought he had forgotten about it. Then, he went outside and came back with a little switch and said, "Come with me!"
We went outside on the northeast side of the house. He said, "Glenn, you are never to hit your sister. I don't want you ever to forget it." Than I got it!
I will never forget the merry-round technique he used on me. He took the switch in his right hand and grasped my left hand with his left. Of course that turned me around so that the first whack hit me squarely on my butt. Around we went! Wow! I thought he would never stop. Of course, Dad would never really injure me. He just wanted me to know that he meant what he said.
Believe me, I got the message: "Don't ever, ever hit Helen again!" I didn't!
I don't remember getting any other spankings. Dad was usually a very quiet, calm person. He didn't often bawl me out or correct me, but there were times when he let me know what I should or should not do.
One such time involved the use of my newfound word "shit." When Dad heard me using that new, interesting word as we kids were playing, he gave me a good lecture. I learned quickly that my Dad didn't approve of such words.
Dad's eyes began to go bad by the time he was married. I remember his wearing black-rimmed glasses. They were always giving him trouble. The doctor told him he had a degenerative problem that would evidently keep him from reading.
As the years went on, Dad's eyes got worse, just as the doctor had predicted. He could see things in a distance, but could no longer read. He would often surprise me by the things he could see.
"Glenn," he said one beautiful day. "Do you see that hawk up there?"
"How in the world can you see that hawk?" I asked.
"You know, Glenn," he said, "the only way I can see that hawk is to look away from the center of my eyes. In that way I can see just fine."
For many years Dad was unable to read. That was sad because Dad always liked to keep up on things, especially farm news.
After he was declared legally blind, we tried to help him by getting talking books, tapes and records.
I always considered my Dad a patient, calm man. Later it became apparent that Dad just kept his problems to himself and, as the saying goes, "clenched his teeth." This was literally true in a way.
Poor Dad! He had lived with lots of tension in his life. As a young man, he watched Grandpa deal with Grandma and her twin sisters. When Grandpa died, Dad inherited his Dad's family problems.
Later in life, his two sisters gave him problems. When they forced him off the farm and we moved to Western Kansas, the depression years made life hard for Dad.
In his fifties Dad began to suffer with terrible toothaches.
"Fred, you simply must go to the dentist. Surely, he can do something to help you."
I'm sure Dad figured he'd be forced to have all his teeth pulled, and he put off that dentist visit until the pain got unbearable. There were two problems, Dad's dislike of having to go to any kind of doctor, and the lack of money to pay for the visits.
Finally Dad went to see a dentist in Jetmore. The dentist didn't give him a very encouraging report.
"You have a few small cavities, but that's not your primary problem. Your teeth have been worn down so that your nerves are right on the surface. No wonder you are suffering. You apparently have had the habit of grinding your teeth together for many years."
"What can you do to help me, doctor?" Dad asked.
"Well, there's not very much I can do. I certainly don't recommend pulling your teeth and replacing them with a set of false ones. I will fill some of those small cavities, but otherwise that's about all I can do for you."
I suppose if Dad were living today, something could be done to help him, besides giving him false teeth. However, Dad didn't have much choice at the time. As he learned to do with many of his problems, he lived with the pain.
Although my Dad had teeth and eye troubles, he was not a complainer. He was able to accept adversity and still be a cheerful person.

The Things My Dad Taught Me
Dad taught me how to do many jobs around the farm. One of my main jobs was feeding the pigs, horses, chickens and cows. I always thought those jobs were very boring. Everything was so routine. Milking the cows was a little more interesting, but it had to be done so regularly, every morning and every night. It had to be done thoroughly also.
"Glenn," Dad would remind me, "when you milk a cow, be sure to milk her bag completely dry. That means all four teats."
There wasn't much chance for creativity in the feeding and milking jobs. However, when weaning time came for the baby calves, they had to be taught to drink milk from a bucket. On that job I could use a few ideas of my own so it was a little more interesting.
My Dad was a good carpenter and I learned how to use a hammer and saw from him. He showed me which kind of hammer to use for each job, how to hold the hammer, and how to strike a nail to keep it from bending. He also explained the proper technique for pulling nails. He stressed the importance of using the right size and type of nail for each job.
The first saw I learned to use was a crosscut saw. Dad said that you can't force a saw to cut. You should let it flow easily through the wood, and it will do the cutting by itself. The saw I used the most often was the two-man crosscut that we used to cut logs. These were for Mom's kitchen stove and the stove used for heating the house.
In addition to saw and hammer, other tools Dad showed me how to use were wrenches, screwdrivers, pliers, squares, and rulers.
Dad also taught me how to harness up the horses and hook them to the farm implements, use the cultivator on the field corn, cut and rake the alfalfa, harrow, and wield a corn knife. As a matter of fact, there wasn't a piece of machinery on the farm that he didn't teach me to use and maintain.
I marveled how Dad could guide a team of horses in a straight line. I never did get the hang of that. My rows were always crooked. One of my problems with working the fields was boredom. I would try to think of every excuse to stop awhile and do something else. That certainly wasn't a lesson I learned from my Dad. He could work in the fields hour after hour. One of his attributes was staying on a job until it was done.
I found that I had trouble sticking to routine farm jobs. I guess I didn't have much motivation. As a kid, I wasn't motivated over much of anything. It was more fun to play with my dog Rover and just wander all around the farm, without any routine jobs to do.
My Dad knew how to do many jobs well, and he tried to teach my brother and me how to do them right. He knew how to stack hay so it shed water. He knew how to put in fence posts so they didn't loosen. I could go on for pages writing about the things that Dad taught me. What's important is that I don't believe I forgot a thing he taught me, although I might not do the jobs as well as he did. Looking back over my life, I realize that many skills I passed on to my children were learned from my Dad.
Dad was well read. He graduated from the ninth year, which was very normal for a young man of his time. He was active in community and local school affairs, and served as treasurer of the Elmer School for many years. Of course, he had no computer to help him. Pencil and paper were his lot!
The Kansas state and county agricultural agents were friends of my Dad. They respected him and worked with him. Being close to the Kansas State Fair, where new ideas were demonstrated and the newest farm equipment was on display, was always an exciting experience for him.
Ideas rolled from his head like water from a spring rain, and he had the ability to make lots of them work. Unfortunately, he was ahead of his time. The technology of that time was too slow for him, so although his projects worked, they often weren't successful business ventures. The economics of the day weren't right either. The country was embarking into one of its worst depressions. Also most of my memories of farm life include too little rain, too many grasshoppers, beetles and rabbits, and devastating dust storms. Dad had to accept things as they were. I know one thing, he wasn't a quitter. He went ahead and tried! Stubborn? Sure! I, for one, loved him even more for it.
My Dad loved farming. Sure, he would get tired, but work on the farm didn't seem to bore him at all. He kept his mind on what he was doing whether it was caring for the animals, hoeing weeds or milking the cows. He spent long hours day after day from dawn to night doing what he wanted to do most--farm. Yet, my folks always took off work to go to church every Sunday. They participated in many church, community and school activities. To this day, I don't know how they did it.
All men had to register for the draft when our country declared war in 1917. However, since at least one man was left on each farm, my Dad was never asked to serve in the armed forces. Of course, at that time the war was simply called the World War. How could my Dad know that his yet unborn son would be called to register and serve in World War II? After all, that first war was supposed to be the one to end all others.

Dad's World War Registration Certificate, June 5, 1917
In his last years, Dad developed Parkinson Disease. Mom was able to care for him at home until the last few days of his life. He died at the age of 80.
I loved my Dad dearly, and after reminiscing and writing about him, I can come to only one conclusion: I had many, many wonderful experiences with my Dad, I learned much from him, and, in my opinion, he was a great man!
My Mom
Mom was a Deal, and remained one from the day she was born to the day she died. There was absolutely no doubt about it. The Deals and the Rueggers, two very strong-willed and proud families, started a chain of families that were to be reckoned with.
As I look back at my home life, it is obvious to me that Mom inherited lots of her Mom's and Dad's characteristics. Both of them were very strong, determined people, and were used to getting their own way. I've often wondered how my Deal grandparents got along so well together, since each was so strong-willed. I don't know how Dad could have ever gotten away from Mom's clutches. Soft touch that he was and the Deal that Mom was, she, whether anyone liked it or not, ruled the roost!
I don't want it to sound as if Mom was hard to deal with. She was really a very loving and tremendously devoted person to Dad and her family. To say she ruled the roost may sound a little harsh, but I must admit she usually had her way with all of us.
I am reminded of how she did a good job of bossing all of us when we moved into our basement house in Western Kansas. Sometimes I'm afraid we didn't appreciate her as much as we should have. To be sure, she was always there doing the very important daily jobs, preparing the meals, washing dishes, keeping our clothes washed and ironed, and just simply loving us. Mom also did lots of the outside chores that were usually considered man's work.
We all loved Mom, even though she gave us lots of instructions and strong lectures on many subjects. She taught me many lessons about responsibility, and about caring for others who had misfortune in their lives. And, she always practiced what she preached. A good example is how she took care of my cousin Ted when he came to live with us after his parents were divorced.
Sometimes I was jealous of Ted. Ted got a job running a tractor. He needed the money to buy clothes and incidentals. As a matter of fact, he always had more money to spend than I did.
"I never get paid for anything. Why can't I get a job and have some money of my own?" That was always a heartbreaking question for my Mom and Dad to answer. "Glenn, you and Junior are our own sons. We need your help on the farm, and there is very little money to give you. Ted is living in our home because he doesn't have a home of his own. Remember, his mother is back in Burrton, and he has no communication with his father at all. You have a father that is around all the time. It makes a big difference. Ted's Dad let him down during the most important times of his life. Our family has a responsibility to help Ted have a good family life."
Talking such things out with Mom did a great deal to help me to grow up to be a caring person.
I naturally can't remember much about Mom caring for me as a baby, but I do have one vivid memory. People laugh at me when I tell the story, because they say I was too young to remember the event. However, I insist I do remember November 11, 1918! That was Armistice Day, the day the first World War ended. I would never have remembered that eventful time, but for my mother's interest in having me remember it. Although we were five miles from Hutchinson, she could see the lights and hear the sounds of the fireworks, and she wanted me to remember that important day. It was the end of the war that was to "end all wars."
Obviously Mom did the right thing to help me remember. She awakened me, carried me to the north window on the second floor, and said, "Look, Glenn! The war is ended! See the lights and the fireworks? Hear the cannons firing?"
Yes, it was an experience. Although I was only 15 months old, that experience is still impressed in my memory. Junior and Helen were older and Mom knew that they would be able to remember the event; but she wasn't too sure about me. Of course, at that time, Mom didn't even think about the possibility of another World War. Even farther from her mind was the idea that I would go to the South Pacific 24 years later to fight in that war.
My Mom didn't have a lazy bone in her body. She was a very, very hard worker. Both Mom and Dad worked early and late, many times up before five o'clock and to bed at ten or later at night.
My folks always had a big garden, and Mom was responsible for planting and taking care of it. While on the Hutchinson farm, the garden plot was some 40 by 50 feet. That was about all Mom could take care of by herself. That particular patch was just north of the house which made it close enough that Mom could get to it easily--to either work on it or gather vegetables when they were needed quickly. She planted enough seeds to bear enough vegetables to eat day by day and, of course, to can and store for the winter. Usually there was enough canned stuff to last into the next season.
Mom didn't do all the work. In the spring it was Dad's job to plow the garden patch. Sometimes, we planted enough potatoes, sweet potatoes, corn and watermelons to market as cash crops. That meant that Dad had to prepare a supplementary garden plot at another spot.
Before we had electricity, we didn't have supplementary water to take care of the garden. If there wasn't enough rain, the plants simply died! After we got an electric pump to irrigate the garden, there was always a good crop. Imagine, carrots, radishes, rhubarb, potatoes, asparagus, cantaloupes, lettuce, peppers, sweet corn, peas, navy and lima beans, onions, red beets, cucumbers, grapes, tomatoes, pumpkins and yes, strawberries! Yum, Yum!
Writing about Mom's garden crops reminds me of a story Mom told me, more than once, to emphasize the importance of doing well any job given to me. It was about the little boy who was told to go to the patch and plant some pumpkin seeds. At first it was fun, but soon he got tired of the job. So he began to think of something he could do about that situation. As he looked around, he spied a large rock at the end of the row. He looked at that rock and an idea come into his head.
"I don't want to finish this planting job, he thought. "Why don't I just put the rest of the seeds under that rock? There, the job is done. No one will be the wiser."
"Did you plant the pumpkin seeds?" his mother asked.
"Oh yes, mother. I planted all the pumpkin seeds," he said, lying to her.
Now everything went along well until his mother went out to the patch to see if the seeds had sprouted. What she saw was part of a row of pumpkins growing nicely. Looking for the missing plants in the row, she spied that rock at the end of the row! The excess pumpkin seeds the boy had placed under the rock had sprouted. The strength of the plants raised the rock allowing the nice green stalks to be exposed. The boy's lie was also exposed.
The phrase, "Pumpkin under the rock, pumpkin under the rock," was coined. When my Mom would give me a job, she would say, "Do a good job, Glenn. Remember 'Pumpkin under the rock!'" I still remember, Mom.
Frankly, I don't think the McMurry's thought Dad picked the best girl for a wife. In my later years my two maiden aunts, Aunt Myrtle and Florence, let it slip one day that they didn't think Mom was good enough for their brother. They thought Mom wasn't a good mother. She spent too much time working outdoors. I certainly didn't agree with them. I never felt neglected by my Mom. On the contrary, I thought my Mom and Dad were really well matched. I lived with them for a long time and there were few harsh words between them. As a matter of fact, I can't remember any. We were a very, very loving family. We worked and played together, year after year. Mom and Dad loved each other with a devotion that lasted for well over fifty years. What did my aunts want for a nickel?
I remember my aunts thought I had acquired rickets because I had a rather sunken rib cage. That was proof to them that Mom wasn't feeding her family properly. That irritated Mom terribly, and she defended herself by informing them that Glenn was a perfect baby! At the state fair he was judged just that, a perfect baby. The judges said that sunken ribs was often a common condition and probably inherited.
Taking care of a family in those days was a big job. There were no dishwashers, and doing the family wash was certainly not as simple and easy as using today's modern washer and drier. Mom had to heat her water, either on the stove or by building a fire under her big black kettle outside. She washed the clothes either on a washboard or, later on, in a hand-operated washing machine. When we got electricity, she had an electric washer, but nothing like today's modern machines. The water still had to be heated and carried to the washer and rinse tubs. When the job was done, the water had to be dumped or drained out through hoses attached to the bottom of the machine and tubs.
Mom also did lots of sewing on her foot-treadle Singer sewing machine. Since there were no "wash and wear" fabrics, nearly all items had to be ironed. Before electricity came to our rural area, ironing was done with a flat iron heated on the kitchen stove.
As a hard-working farmer, Dad spent lots of his time out in the fields. Even when Dad didn't have to go to the fields to work, there were plenty other outside jobs to be done in the yard, and in and around the barn. Therefore, Mom had to be both Mom and Dad for us kids much of the day.
In addition to taking care of us, both in sickness and in health, and doing all the inside housework, Mom often helped Dad outside. She helped with the chickens, in the milk house, and in caring for the yard. Mom always raised lots of flowers and took pride in her moss, flags, zinnias, peonies, sweet peas, petunias, and many other kinds whose proper names I can no longer remember.
Mom was a talker and enjoyed doing it. I think she got that from her papa. "Papa" was what she always called her father. Mom had lots of strong opinions about everything, especially on the subject of--well, I said it, everything! She didn't exactly monopolize conversations, but she let people know she was around. I know one thing, despite her talk-a-thons, her friends seemed to be very fond of her, and she had many of them.
I do remember a couple times when I spoke harshly to my Mom about her talking. In fact, a couple times I even said, "Mom, shut up!" As I look back, I could probably have been less harsh in both situations.
The first incident I remember when I blurted out, "Mom, shut up!" was when our daughter Glenda and her husband were house hunting in Maryland.
As soon as I said it, I knew that was a terrible thing to say to my Mom, but I really thought she had it coming to her. She was a great person to give everyone advise. I have to admit it was usually the right advice, but people don't always appreciate being told what to do.
Doug, Glenda's husband, had just been discharged from the U S Navy and they wanted to come to the Washington, D.C. area, where we lived, to start a new life. They had found a nice little house and we all went to look at it. At that time Mom was visiting us from Kansas, and rather than leave her alone, we took her along. As I said before, Mom was a talker and on this particular day she didn't seem to stop. She had all kinds of comments concerning the house, but they certainly weren't appropriate while Doug and Glenda were discussing business with the owner. I was ashamed to have her talking all the time so I said, "Mom, shut up! Just listen."
I hurt her terribly and I was sorry, but I had to say it. I thought so anyway. She stopped talking and did what I said.
I said "Mom, shut up!" another time. That's right, I said it again.
We took Mom with us to the musical "Man of La Mancha" at the University of Maryland. Everything went along fine until the "rape" scene. Mom went berserk! When she realized that scene was against her moral teaching, she started to get up from her seat and protest in a loud voice. What she said, I can't remember, but that's when I said, "Mom, shut up!" She did.
Again I hurt Mom's feelings, but what else could I have done? She was disturbing the peace of the people around us and I felt it was my responsibility to keep her quiet. I tried to calm her down and let her know gently that she should keep her emotions to herself.
I am a lot older, but not necessarily wiser now, and I have to admit that I, too, just like my Mom, get into trouble with my talking. My wife sometimes tells me to stay out of other people's business, but I'm afraid I don't pay much attention to her. My son sometimes has to try to stop me from talking when I visit his office. His work is important to him, and although he seems to like having me around, he wants me to stay in my place.
"Dad, you don't have to make conversation with all of the employees you meet," he said one day. "Those people like you and they will do anything for you. Please don't go around starting conversations with all of them. They will immediately stop their work to talk. They are there to do their particular jobs and even though you would like to talk with them, don't. They are getting paid good money to work, not to visit. Just say, 'Hello,' and let it go at that."
Mom would always say, "bread cast on the water--", or something like that. In other words, as I did to her, it is coming back to me. I guess I have to admit that I haven't always learned from my past experiences to keep myself out of other people's business.
"Sorry, Mom. Sorry, Greg."
I hurt my Mom another time and I never forgot that either. I was at college and was having a great time singing in the A Cappella choir. As usual, the plan at Bethel was to send the choir on tour each year, and this particular year, we were going east. Each choir member had to contribute for his own expenses, and, in my case, there was no money to contribute. I was certain that Mom and Dad could come up with the money to send me, but as the time got closer and closer to the deadline to send the money, I got panicky.
"Mom, I've got to go on that trip," I demanded. "This is a wonderful opportunity and I've simply got to go. Can't you understand that I've got to have the money?"
"Glenn," Mom said, "we don't have the money to give to you. You know we'd give it to you if we could. What little money we have has to go for food and for supplies to run the farm. I'm afraid you'll have to stay home this time."
Then I made another mistake. "I know," I said, "we can borrow the money from the Robertsons. They have lots of money and they would loan it to me. I just know they would," I insisted.
"Grace and Fred Robertson are our very best friends, but I would never ask them for money. Don't you have any pride? Asking them for money would be a terrible thing to do. Don't even think about it," Mom chided. "Just realize that you can't go on that trip. There will be other trips, but this is not one of them."
I was a crybaby and I cried over that trip, but it didn't do any good. I stayed at home on the farm that summer.
I still remember vividly how I acted about that choir trip. I'm sure I must have hurt my folks, and especially my Mom, the way I carried on.
"Mom, I'm sorry that I hurt you so much!"
Mom's Health Problems
Now Mom's teeth were a disaster, all the way! She was always having some kind of tooth problem. The dentist once told her that she had the poorest teeth he'd ever seen. Her trips to the dentist were frequent.
Mom was always a joker. One day when she came back from the dentist, I saw her coming towards the barn where Dad and I were working.
"Oh, oh," she moaned. "It's terrible!" Mom was holding her handkerchief over her mouth. "The doctor pulled all my teeth out!"
By the time Dad and I got close to her, she blurted out, "April Fool!"
Frankly, we thought she really had all her teeth pulled out.
"Mom, that was a bad, bad joke to pull on us, now, wasn't it?"
Mom always loved to play April Fool jokes on everyone each year.
Finally, there was no joking about her teeth situation. She got a bad gum infection. The only thing the doctor could do was pull all of her teeth and give her a set of false ones.
Even before we moved west, Mom's dental bills were enormous. After we moved to Hanston, she always drove back to Hutchinson to have her dental work done. By the time she got her false teeth, her dental bill was even bigger, of course. It took years for the folks to pay off that dentist by sending a few dollars whenever they could.
After Dad died, Mom stayed on the farm. I'm sure she spent many lonely hours. It helped to have Junior and his family in their home close by, and we insisted that she come to California periodically to visit us. She got along pretty well until Junior's death. That was a big blow to her and she never did fully recover from the loss of her son. She had depended so much on him. It wasn't too long before her mind began to show the effects of being alone so much, and grieving for Dad and Junior.
A nice retirement home opened in South Hutchinson, and as soon as there was room for her, we moved her there. We held a sale and sold most of her furniture. We kept only her choice items that would fit into the small apartment.
She seemed to be quite content in her new home. She enjoyed some of the activities provided by the home, such as playing Bingo and doing some of the craft projects. She could still attend her church and go to her women's meetings. That way she was able to see her friends. Also, being the friendly, outgoing person she was, she made new friends at the home.
One day we received a call from the home saying Mom would have to move. Mom's mind was failing. She was found wandering around outside, seemingly not aware of where she was. We immediately made plans to move her to our home in College Park, Maryland.
We cared for her as long as we could. However, after she fell and broke her hip, her condition became so bad she needed twenty-four-hour skilled nursing care. Finally, we took her to a nursing home for her last days. I'm not sure she ever really knew us or where she was from then on. She died in the home at the age of eighty-five.
Her body was shipped back to Kansas and her funeral was held in the South Hutchinson United Methodist Church. She was buried in the family plot along with Dad, Helen, and Junior.
Several years before Mom died she went through her pictures and divided them between Junior's family and me. In my pile was this one of Junior, Helen and me. On the back was written "after church." Then when Mom tore it from her album as she was sorting through her pictures, she added: "Jan 4, 1970 - 3 lovely children - surely my life has not been in vain."
No, Mom, your life was certainly not in vain! When I remember what a hard worker you were, and all you did for your church, your many friends and relatives, and especially for your husband and children, I know yours was a life of love and devotion. No mother could have done more and we all loved you dearly.

My Big Brother, Junior
My brother had the distinction of being called "Junior" because he was the firstborn son. My folks named him Fred Earl McMurry, Junior. Since there couldn't be two Fred's in the family, he was nicknamed "Junior." They could have called him, Freddie, Earl or Junnie, but Junior stuck. He was never able to shake off that name, even as a grown man. Sometime the family called him "June," but nearly everyone else called him "Junior" until the day he died. If I got really angry with him, I would call him "Jun-your," in my loudest voice.
When Junior went to high school at Partridge, Kansas, his classmates nicknamed him "Funny." As he was always joking around, making others laugh, that seemed appropriate, I guess. I don't remember how long it took for that nickname to be dropped. We didn't use that name around home. I certainly didn't appreciate that "Funny" name. I never did know how Junior felt about it.
Remembering Junior's nickname reminds me of the time a kid in high school started to call me "Goofy, McMurry." Naturally others followed his example, as kids will do. At first, I resisted and made a big fuss when anyone called me that. When I finally learned to ignore any kid who used that nickname, it was soon forgotten.
My early memories of my brother, Junior, are rather sketchy. After all, he was almost four years older than I. During ones childhood years, four years makes lots of difference in relationships.
There were times when I thought my folks thought more of my brother than they did of me.
"Glenn," Mom assured me, "I love all of you. I love Junior best because he was my first child, Helen best because she's my only girl, and you best because you're my youngest child. How could I ever love one of my children more than the others?"
Now that I have had children of my own, I understand exactly what my Mom meant. But frankly, that wasn't a very convincing argument to me at the time. Junior seemed to get all the interesting things to do, such as learning how to work on the tractor. He got to drive the car first and, it seemed to me, he got to do lots of things I never did get to do. Of course, some things, such as caring for the horses and cows, didn't really bother me. Rover, Diffy and my little red coaster wagon were much more fun than horses and cows.
As I grew older, I found that some of the things Junior did that I had been jealous about weren't as much fun as I thought they would be. It seemed that Dad and Junior were always repairing a piece of machinery and I really didn't care about doing that kind of work at all.
I don't remember Junior's being in school with me at Elmer, but, of course, he was there for my first four years. He was one of the big kids, and big kids didn't associate with little kids. Junior had his own circle of friends, and I certainly didn't want to mess around with those big kids.
On Sunday at church Junior always hung around with a group of his friends. In a way I was jealous of Don, Neal, Dare, and especially, Clayton, because Junior didn't pay any attention to me.
His best friend was Clayton. Since Clayton went to a different school, Sunday was their special time to be together. Often Clayton would come home with us or Junior would go to Clayton's home for the afternoon.

Sunday after Church.
Clayton Robertson, Me, Helen and Junior
I well remember one Sunday when Clayton came to our house. He and Junior got into a water fight. The fight started small with them tossing a cup or so at each other. Soon they were throwing buckets of water all over the place.
The first thing I knew both Helen and I were also getting soused with buckets of cold well water. At first a little cold water felt pretty good on a hot day. Soon, however, after we were soaking wet all over, it didn't feel so good. I did my best to douse them, but even a half-bucket of water was hard for me to handle.
Soon Mom stepped out of the house and suggested the whole thing had gone far enough. She noticed that Helen was shivering and she told her to come into the house.
We boys went out toward the barn and were soon starting the fight all over with the water from the stock tank. As it had been sitting in the sun all day, it was warm compared with the well water. It wasn't long before we shed our wet clothes and jumped into the tank. As it began to get dark, we jumped out of the tank and Estarted running all around like wild hyenas.
I remember how good the evening breeze felt on my naked body. All three of us laughed and ran up and down the driveway, chasing each other as fast as we could go. Before long Mom hear the fracas and that ended our fun.
"Nice people don't go 'round naked," she admonished. "Come into this house and get on some dry clothes."
Ah shucks! Running outside naked on a warm summer evening didn't seem so terrible to me. I thought it was great fun.
Although he wasn't much of a scholar, I believe Junior enjoyed his four years at Partridge High School. I remember the time Dad had to have a conference with the principal. Junior just didn't like class work. He'd rather make jokes and fool around.
Partridge had a nice band and Junior liked music. Soon Junior was sporting a new E-flat saxophone. He didn't like taking piano lessons so the folks bought the sax for him. He loved that instrument.
Junior didn't participate in the sports program, but he played his saxophone in the pep band. The band traveled with the teams to all the athletic events.
One time Junior went with the band to Lincoln, Nebraska. He came home with a souvenir ashtray he had picked up from the hotel. Mom had a fit! She gave Junior more than one lecture, but the souvenir was still around years later. Mom would have returned it, but she didn't know where to send it.
While Junior was in high school, the folks traded the old black Model-T Ford for a brand new two-tone brown Model-A Ford.


Model T Ford

New Model A Ford
Although he had a ride to school, Junior wanted to drive the new Ford. After lots of begging, he was finally given permission to do so. That turned out to be a disaster because one noontime he wrapped that Model-A around a cement pole right in the middle of the main intersection in Partridge. That Model-A was in the shop for a week. The door on the driver side never looked the same. The body shop could never quite match the paint.
Some years later when I began to drive that car, that door still looked different. Finally, when I was in college running the car all over the country looking for towns to show motion pictures, I painted it French gray. That sounded like a nice color, but when I finished the job, I was really ashamed of the way it looked. Of course, I had no money to buy paint to redo it, so it stayed that ugly French gray.
After Junior finished high school, my folks thought he should go to Junior College in Hutchinson. Well, books and Junior just didn't get along well. After the first semester in Junior College, he began to complain.
"I want to quit college. I just want to farm!" he told the folks.
After much discussion, the folks decided to let him drop out of college. Through the years, I'm sure the folks didn't regret the decision.
Junior was handy at working with his hands. He could repair anything. Everyone around knew that. He had the ability to tear down a tractor, car, or anything needing a going over, and repair it. The thing I couldn't understand was that after he finished a repair job, he often had pieces left over. There would be a bolt here and a screw there.
"Isn't there is a place for those pieces?" I asked one day.
"Well, it works, doesn't it? Who cares if there is a bolt or screw hanging around."
I'd have to admit that the outfit worked. It was amazing.
Another interesting thing about Junior was his desire to use whatever he was repairing before he had cleaned the work area and put away his tools. As soon as he could start an engine, he was off.
"When are you going to clean up that mess, Junior?" I often ask.
His tools were spread all over the place. How in the world could he find them later?
"Don't brother them, I'll know where they are when I need them."
You know, he was right.
Dad depended on Junior to keep the farm equipment going, and to improve some of the methods of doing certain jobs. When I first came back from the war, it was hay baling time. Junior had built a mechanical loader to make the job easier to put the bales in the hayloft. He had made it from "scratch," as the saying goes. Truly he was a handy guy to have around the farm. He seemed to be able to fix anything and make something new if needed.
I well remember when Junior tried to teach me how to replace the rings on my car.
"Sure you can do it, Glenn. I'll help you."
I got that set of rings put into that engine, but the darned thing used more oil than before. I should have just let him do the job for me.
Junior liked girls and the girls liked him. In fact, everyone liked him. I don't think he ever had an enemy.
Lena Ruth was his special high school girl friend. We even thought they would get married. Junior got quite close to her family and visited them often. It was because of his association with them that Junior got on the Western Kansas kick.
"Folks, Lena Ruth's family want to move to Western Kansas. Her father has made a deal to buy a large tract of land. He has discovered it is too much for him and he wants to sell part of it to us," Junior announced one day.
Since my folks' financial situation around our farm wasn't so good, Junior was able to convince them it was a good deal. Thus, our family moved to Western Kansas.
For some reason, when Lena Ruth's parents moved to Western Kansas, she stayed in Partridge. I don't know whether this had anything to do with her affair with Junior or not. Nevertheless, not long after our move, Junior started dating other girls and after a couple years he found Netenna, whose family lived on a neighboring farm.
Junior and Tina, as we always called her, were married in the Hanston Methodist Church, May 11, 1936. After his marriage, Junior moved to town, but continued to help Dad on the farm. He also worked for a mechanic in town.
When my folks moved back to the homestead in Reno County, Junior, Tina and their daughter, LaFaun, moved with them. Dad and Junior continued to farm together. They also leased other farmland in order to support two families. Later, during the war, Junior got a job at Cessna Aircraft.
Junior and Tina had five children. LaFaun was born in Hanston, and Nancy, Donna June, Robert and Ronald were born in Reno County. They had the sad experience of losing Donna June when she was only eight years old. She suffered with rheumatic fever for several months. However, just before she died, tests also showed she had polio. Unfortunately, her illnesses came long before cures for either of the two diseases were found.

Tina and Junior with Donna and LaFaun in 1943

Not only did Junior work for Cessna, and farm with Dad, he also at one time had quite a business making terraces. These were necessary for soil conservation on the farms and such projects were supported by government grants.

Junior was always a hard worker. He, like our Dad, tried all types of projects to support his family. Also, like our Dad, he didn't seem to have very good luck with any of them.

Through long hours of work at several different jobs, he was able to accomplish two of his goals. One was to build a nice home for his family just north of the old farm home. Lots of the work he did himself. Of course, Dad helped where he could. The other goal was to send his two daughters to Kansas University. They both earned their degrees and became home economics teachers.






There came a time when Junior could never get rested and didn't feel well enough to work. The doctor diagnosed his trouble as Hodgkin's Disease. None of us knew anything about such a disease, but it didn't take us long to learn that there was no known cure. We learned that he might live for a number of years, never being really well, but just experiencing ups and downs.

It was a tough time for all the family, trying to realize that sooner or later Junior was going to leave us. We were living in California when we learned the bad news about his illness. I tried to keep good contact with him and do what I could to help him face his eventual death.

To add to the family's distress, during Junior's years of illness, his oldest boy, Bob, was involved in a serious car accident, which nearly killed him. The family was devastated. It took many weeks before that boy was out of the hospital.

When I stopped by the farm on my way to an audio-visual convention in New York, I knew Junior didn't have long to live.

"June, I'm going to New York and expect to visit the World's Fair. Why don't you go with me? We'll have a great time together."

I didn't think he'd leave home and go with me, but he did. We had a wonderful time visiting the many exhibits and doing fun things. It was like old times when we would go to the Kansas State Fair. I was so pleased to see him enjoy himself. During the times when I was at the convention, Junior rested in our hotel room.

On our way home, I left Junior at the Chicago airport. He went home and I continued on my way back to California. It was a sad moment when we parted.

The last time I visited Junior, I found he was a different person. Although it was only a few months since I had left him in Chicago, he looked like a haggard old man. Together we went to the Social Security office in town to help him apply for his disability benefits. As June sat there huddled in the chair waiting for his name to be called, I nearly cried. I couldn't believe how he had deteriorated. I felt he had completely given up.

Later, when we returned home, he had perked up and looked more rested. We had a very intimate conversation.

"What should I do with the rest of my life, Glenn? I know I don't have much time left?"

I did my best to encourage him to do something to keep himself occupied. However, I didn't really know just what advice to give. I could see that Junior wasn't physically able to do much at all. He was just too weak.

Some weeks later on June 10, 1969, I received a telephone call from my nephew Bob telling me that his father had died.

"Uncle Glenn, I was alone with my Dad when he died. He had started to recite the familiar words from the Bible: 'God so loved the world that he gave-.' I finished his favorite passage as he breathed his last."

I rushed home to be with the family. It was hard to know how to comfort his widow and family. His youngest son, Ronnie, was only fourteen when his father died, and Bob was still recovering from his auto accident. Although Nancy and LaFaun were married and away from home, they were always close to their Dad and felt great loss at his death.

My Dad had died two years earlier. I felt so sad for my Mom. Especially since Dad's death, she depended upon Junior for everything. Now she was alone, really alone.

My brother, Junior, was in the prime of his life when he died at the age of fifty-six.


My Sister, Helen

My sister, Helen, who was two years older than I, died when I was nine years old. Until she became too ill, we always played together. And, for sure, Helen and I always had lots of playing to do. The Kansas seasons varied from extreme cold to very hot. The wind was unpredictable as well. Sometimes it was a gentle breeze, and sometimes it blew up a storm. In other words, Kansas weather was predictably unpredictable! We kids had to tailor our play to the weather. Whenever possible, we loved to be outside. It was fun to play in the snow, and even the mud. It was fun to run in the wind, if it wasn't a real cyclone or tornado. It was good to enjoy the sunshine and warm weather, if it wasn't too hot and humid.

When the weather was too harsh, Helen and I found many things to do inside the house. I have many pleasant memories of the times I spent playing with my sister, Helen.

A favorite pastime in the warm weather was playing in the big watering tank by the windmill. It didn't bother us that we were in the cows' and horses' drinking water. We would just play in the tank fully clothed. I don't suppose either of us owned a bathing suit.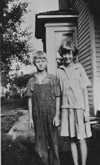 Mom wrote on the back of this picture:
"Just out of the big water tank--Summer 1927"
One particular fun time with Helen might be called the "muddy good time."
"Let's go out and wade in the rain water," I said to Helen, one spring day after a nice warm rain.
"OK," Helen said. "Let's go to the ditch at the end of the driveway. I'll beat you there!"
We were both barefooted and eager to feel the warm wet sandy dirt between our toes.
Mom had always said it was warm enough to go barefooted when I could find a new cottonwood tree leaf as big as my ear.
"Old leaves don't count," she'd say.
Now finding a new leaf in the early spring was always a challenge. In the first place, cottonwood trees weren't easy to climb. When I did get up in the tree and spy a big leaf, it always seemed to be a hanger- on from last year.
In the early spring, the cottonwood trees were covered with little tufts of cotton. When I smashed them between my fingers, they were sticky. I used to try to figure out someway to make something of that cotton, but I was never successful.
Back to the wading event. Since Helen and I were barefooted, I must have brought Mom a new leaf as big as my ear sometime before this day.
"The deepest place to wade is on the right side of the culvert," I said, running headlong trying to beat her to the road.
Helen was ten and I was eight when this escapade happened. We were both dressed in our old clothes. She, in an old faded cotton dress and I, in my old ragged overalls. Mom insisted we wear our old clothes for play, but we didn't care. New clothes were hard to get used to anyway.
"Oh, look, Glenn, the ditch is full."
I rolled up my pant legs, and tested the water. It had been warmed by the morning sun.
"Come on in. The water's warm," I said. Helen didn't like cold water so I always did the testing first. Just as long as the water wasn't too cold, neither of us cared how muddy it was.
We hadn't been wading long before I let my foot slip into the deep part of the ditch and down I went headlong. Of course, I got mud all over me.
"Oh, for goodness sake, Glenn! Mom will be mad."
"Aw, shucks! Mom won't care. Come on in and get wet all over. The water's great."
With that urging, she too jumped into the deepest part of the ditch.
Very soon our clothes were soaked with that warm dirty rainwater. It felt good. We laughed at our predicament, and then started to jump around and throw mud at each other. Soon we were covered with mud from head to foot.
A car drove by and the driver stared at us. I'm sure he couldn't really tell whether we were white or black kids. Knowing that someone had seen us made us squeal and giggle all the more.
After awhile, we got tired and decided it was time to head back to the house. What a mess we were! We were having so much fun that we really hadn't stopped to wonder just what Mom would say when she saw us.
"I'll beat you to the house," I said. "You got a head start the last time."
Mom was an understanding Mom. When she saw us coming down the driveway, she apparently remembered her childhood when she had done the same thing. She didn't really seem to mind how dirty we were, but she met us outside to be certain we didn't come into the house in our present state.
"You stand right here on the sidewalk until I get some buckets of warm water to douse you. Start to take those duds off. I'll bring some towels, too. Remember, stay right there."
Just as she had promised, she soon came out of the house with buckets of warm water and towels.
Mom didn't really care that we had gotten rotten muddy from head to foot, but she did have a worry about our getting sick.
"I don't really think it's best for you to play in that filthy dirty ditch. Let's not do that again. You could get sick from the germs in that dirty water. Next time find a cleaner puddle of water to do your wading."
Both of us knew she was right, but all we could do at the moment was giggle and squeal as we danced around under the nice warm clean water she splashed over us.
What a great time we had that day in the muddy ditch!
Helen liked to play with the Koch girls, Esther, Loretta, and Louise. They lived on my great Uncle Charlie's old farm, a mile or so south of us. Most of the time I would play with them, too, either at their house or at ours. Playing with dolls was the favorite pastime.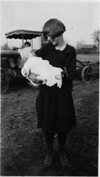 Helen with Her Cherished China Doll
After Helen died, they continued to invite me to play with them. I'm sure they felt sorry for me. I remember that I had two celluloid dolls and they made about a dozen little dresses for those dolls.
Some of the happiest times of my kid days were spent with the Koch girls. Of course, as I got older, the playing-with-dolls craze passed. Still, I felt sad when the Koch family moved away. I remember my folks corresponding with them for a number of years. I will always be grateful to them for how they tried, after Helen's death, to help fill her place in my life.
I knew Helen was sick, but had no idea just how sick she was until that morning when Junior and I were doing chores in the barn. Junior was milking old Pearlie. Suddenly, he twisted himself on his milking stool and looked up at me.
"Glenn, Helen is going to die! I can't believe it, but Mom just told me that Helen is going to die."
"What do you mean, Helen is going to die?"
Junior left the stall and put the milking stool in its usual place behind Pearlie. He put the milk pail down, walked over to me, hugged me and started to cry. Since Junior rarely hugged me and I seldom saw him cry, I knew he was telling me the truth, and not making a joke.
"Helen can't die, Junior!"
"Yes, Glenn, Helen is going to die. Mom told me this morning."
The folks must have thought it would be better for him to tell me. While he had been milking, he must have been trying to find the right words to break the news to me.
I was only nine years old then and I wasn't prepared for such bad news. My only experience with death up to that time was my Grandpa McMurry's death in 1924 when I was seven years old. I had thought only old people died.
As the reality of Helen's coming death became clear, I, too, started to cry.
On the way to the house I began to think about what Helen's leaving me would do to me. Helen and I were inseparable. We played together all the time. No, Helen can't die! How could that be possible? I would have nobody to play with. Junior and I were good friends, but he was enough older than I that he had his own friends and interests.
Helen had pernicious anemia. In those days, it was a fatal disease. Just how long my folks had known that there was no hope for Helen before they told Junior, I don't know.
Soon after I learned the sad news about Helen, Mom and Dad took her to Grandma McMurry's house in town to be close to the doctor and hospital. From then on, she just withered away right before my eyes. She finally died a horrible death by suffocation. I was glad I wasn't allowed in the room when it happened.
The sorry aspect of my sister's death is that a few years later, a cure was found for that type of anemia.
"Grandpa wants to take you boys to the store and buy you new suits for Helen's funeral," Mom announced the day after Helen died.
That suit Grandpa bought for me was nice, but he insisted I should have knickers. I wanted regular pants like the other boys had, but Grandpa, along with the salesman, thought knickers were more stylish.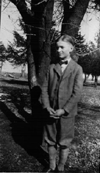 In the New Suit Grandpa Deal
Bought for Me for Helen's Funeral
"I hated those knickers and socks"
Only in more recent years have memorial services for the dead become common. At the time of Helen's death, funerals always followed the same pattern. They were held at the church or at the funeral home. The body was always present in a casket in the front of the room. After the music and sermon, the casket was opened and everyone filed by to view the remains. The last to go by would be the family members. There would usually be much weeping and the family would tarry to get the last look at the loved one.
Helen's funeral was at our Elmer Methodist Church and it followed the pattern I have just described. Everyone was dressed in his best, and, of course, Junior and I were decked out in our new suits.
As we arrived at the church, I spied a friend.
"Look, there's Wilbur. Can I get out and go play with him?"
"No, Glenn, quiet down. This is Helen's funeral. We'll have to stay together."
There were many cars parked around the church when we arrived. The hearse from the funeral home had already arrived, and the casket had been carried into the church.
All our relatives were waiting outside for us. Our immediate family went in and they followed us to the reserved seats in the front of the church. I couldn't believe how many people were there.
I don't remember too much about the service. It seemed a lot like a Sunday morning service to me, the usual preaching, singing and piano music. Mom cried about all the time. I cried once in a while, but nothing like Mom did.
I still have Helen's little cedar chest. In it is a collection of things Mom had saved. This little tribute, in Mom's hand writing, was probably read as the obituary at the funeral. Until recent years, at all funerals I have attended, the minister has read an obituary, or a short biography of the deceased life. I've noticed that the custom is not always followed today.

Helen Margaret McMurry was born December 3rd, 1915, to Fred E. and Bonnie S. McMurry and was called Home October 12th, 1927. She leaves, besides her parents, two brothers, Fred Jr, and Glenn; her grand parents Mr. and Mrs. J. M. Deal of Burrton, and Mrs. W. E. McMurry of Hutchinson, Kansas; her aunts and uncles and little cousins.

While Helen has not been well for some time, it was not known until a week ago that she was seriously ill and in spite of all that loving hands could do she hastened to answer the Great Master's Call.

From Babyhood, Helen has been a member of Elmer Sunday School and Church. She was an exceptional bright pupil in school and held an enviable record in her school report besides snowing a wonderful interest and talent in her musical work and was looking forward to the time when she would play the piano for her Church and Sunday School.

Little Helen had a very unselfish disposition and always had a smile for everyone.

I cannot say, I will not say, that she is dead.
She is just away,
With a cherry smile and a wave of the hand,
She had wandered into unknown land,
And left us dreaming, how very fair,
It needs must be-
For she lingers there
When the program ended the man in charge of the funeral and another man removed the flowers from Helen's casket and opened it. Mom really cried then.
I wasn't very old when Grandpa McMurry died, but I did remember how everyone walked by and looked at him in the casket. That was exactly what happened at Helen's funeral. One of the men guided the people, beginning at the rear of the church. They came to the front of the church and filed by the casket. The relatives were the last to see her. When Grandpa Deal went by her, he bent down and gave her a big kiss. I can still hear that kiss. I remember thinking that Grandpa must have really liked Helen a lot.
Finally, it was our time to go see Helen for the last time. Mom really cried then, and even Junior and Dad cried. I must have cried, too. I really can't remember. Helen looked so nice in that white dress. She looked as if she were asleep. I couldn't believe she was really dead and I'd never see or play with her again. We had had so much fun together.
After a while, we turned from the casket and went down the aisle to the door of the church. When I turned back, I could see the attendants closing Helen's casket and rolling it down the aisle. Then the pallbearers carried it down the steps and put it in the hearse. We followed them. Everyone stood around watching.
I remember thinking that such a fancy black hearse must have cost lots of money.
When the hearse left the church, my family got into another black fancy car and followed the hearse to the graveyard. When we got there, I could see that lots of other people had followed us. Everyone got out of the cars and walked to where Helen was to be buried. There were many nice flowers all around the grave.
When the pallbearers put Helen's casket on that canvas belt over the open grave, we all cried even more. After the preacher said a few words, it was all over. As we turned around and started back to the car, I looked back and saw the attendant was lowering Helen's casket into the grave. Now I knew that Helen was really gone, and she would no longer be there when I wanted to play with her.
After we got back to the church, we got into our own car and went home. That was it. From then on, Helen was to be nothing but a memory.
For years afterward, Mom kept Helen's picture on the piano. There she was every time I practiced my piano lessons.

My Mom was a very emotional woman. She cried at the drop of a hat. When she lost her only girl, it was too much for her. From the time she learned Helen was to die, she began to grieve. That was expected, I suppose, but I think she carried her problem to extreme. Mom had to talk about Helen's death to any person who would listen. She didn't let anyone forget that she had lost her girl. Actually, I don't believe she ever stopped grieving for Helen.
"Helen's gone now and you'll have to take her place," Mom said to me one day.
And that's exactly what happened. Mom didn't want anything to happen to me, her baby boy. She tried to protect me from all harm. I'm sure her attitude had great influence upon my personality from then on. She didn't want me to work in the field with Dad and Junior, for fear something bad would happen to me. When I had to wear glasses, she used them as the reason that I shouldn't play any rough games. Of course, football was out! Mom would rather have me just play around the house, and, of course, spend time at the piano.

CONCLUSION
In my family, as in all families, there were both good and bad times. However, as I review all that I've written here, I believe the good far outweighed the bad. I'm grateful for a family with a strong Christian faith and close family ties. Those influences have helped to shape my own married life, and, in turn, I hope I've passed them on to my children and grandchildren.