The Olympic Drive-In
---



Photo Courtesy of Mal Sharpe


Located much further away from our home in Culver City, the Olympic Drive-In was our second choice if we wanted to go to the movies. I only remember going there a few times. Particularly, I remember the picture on the back of the screen. Those two people surfing are permanently etched in my mind.

I first started thinking about the Olympic Drive-In again about 5 years ago. Some of my New Generation friends were chatting over email and we were trying to remember what was on the back of the screen. The above picture immediately popped into my mind, so I wrote this page.

The Olympic Drive-In was originally at Pico Blvd. and Westwood Blvd., it later moved to 12109 West Olympic Blvd (Olympic and Bundy), Los Angeles, California. The Olympic Drive-In Theatre was built in 1934 and was operated by Pacific Theaters. Its Vehicle capacity was 500 at the Pico Location and 775 after being moved to the Olympic location.

It is known as Los Angeles' FIRST DRIVE-IN THEATER

It was soon after Richard Hollingshead opened the World's first drive-in theater in Camden, New Jersey, June 1933, the first Los Angeles drive-in opened. It was September 9, 1934
As there was only one, it was originally just called "Drive-In Theater" Soon thereafter, it became known as the "Pico Drive-In due only to its location.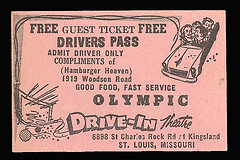 The Olympic Drive-In was built by California Drive-In Theaters, Inc., which later became known as Pacific Drive-In Theaters. The original drive-in was built to accommodate 500 automobiles with speakers mounted on the parking rows intended to throw the audio towards the cars. The first movie shown was "Handy Andy" starring Will Rogers. Admission was $.25 cents for adults and $.10 cents for children.
The drive-in would stand at its original location on Pico and Westwood (The Westside Pavilion is now located on the site of the Pico) until the late 1940s when it was literally picked up and moved about two miles to the west to a site near Olympic and Bundy and now called the "Olympic".
Towards the end, the Olympic did what many drive-ins were doing at the time - showing X-rated flicks. It closed for good on October 14, 1973 and the last movies shown were "School Girls", "School Girls Growing", and "Swinging Wives.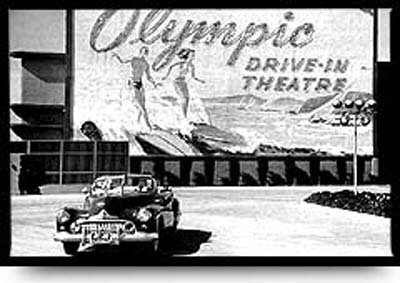 No trace of the drive-in remains except that cars are still located at this old drive-in -- a Cadillac dealership replaced it. I actually purchased a brand new 2000 Escalade there for my wife Rhonda. We sold the Cadillac in 2006 (whatever that has to do with anything).